Jana Jones
Connecting Our Finance Capability With Your Brand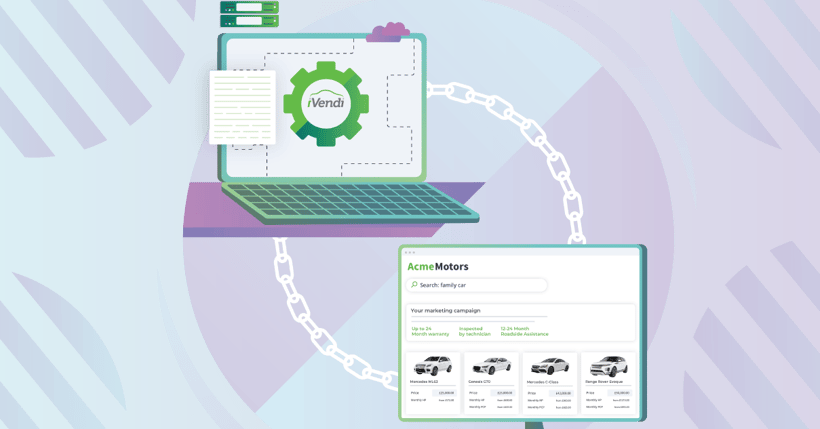 Unlock seamless automotive finance integration with iVendi Connect – our innovative API suite that is poised to bridge the gap between your brand and iVendi's powerful finance capabilities like never before. With iVendi Connect, the power to revolutionise your customer experience is at your fingertips.
In this blog post, we'll delve into the exciting potential of iVendi Connect and how it can elevate your business to new heights.
Seamless Integration, Unique Brand Identity
Gone are the days of isolated systems and disconnected services. With iVendi Connect, we're ushering in an era of seamless integration, allowing your brand to effortlessly connect with our robust finance capabilities. This revolutionary solution enables you to leverage the power of our industry-leading technology while retaining complete control over your brand's user interface. We understand that your brand's identity is non-negotiable, and iVendi Connect is crafted precisely to ensure that your customers experience your brand's essence throughout their journey.
1. Enhanced Customer Experience
In the automotive industry, success is synonymous with delivering an exceptional customer experience. Our API solution is meticulously crafted to empower your customers, making their decision-making journey effortless and informed. Say farewell to convoluted processes – iVendi Connect offers advanced features such as monthly payment calculations and finance eligibility checks. With this, your customers gain a crystal-clear understanding of their financial commitments, enabling them to make choices that align perfectly with their budgets and preferences.
2. Customisation for Your Brand
We understand that every brand has its unique identity and requirements. iVendi Connect empowers you to customise the API integration to align with your brand's look and feel. From colours and fonts to user interfaces, the integration feels like a natural extension of your brand, enhancing brand coherence and customer trust.
3. Real-time Finance Calculations
The iVendi Connect API Suite isn't just about connecting; it's about empowering your brand with real-time finance calculations. Whether it's calculating monthly payments, interest rates, or loan terms, the APIs provide accurate and up-to-date information, enabling your customers to make informed decisions on the spot.
4. Streamlined Workflow for Your Team
Efficiency is at the heart of iVendi Connect. The API suite not only benefits your customers but also streamlines internal processes. Your team can access finance-related data directly from your platform, reducing the need for multiple logins and systems. This leads to improved productivity, reduced errors, and a more unified approach to managing finance-related operations.
5. Boosting Conversions and Revenue Growth
Integration of iVendi Connect is more than a technological enhancement; it's a strategic move to bolster your bottom line. By enabling your customers to explore financing options seamlessly, you remove friction from the buying process. This enhanced experience leads to increased conversion rates and subsequently drives revenue growth. The integration of cutting-edge technology into your existing systems paves the way for customers to embark on a journey that's smooth from start to finish.
Elevate Your Business with iVendi Connect
In a world where customer engagement and satisfaction are paramount, iVendi Connect stands as the bridge between ordinary and extraordinary. Our API solution doesn't just promise innovation; it delivers empowerment, customisation, and a seamless experience. By joining forces with iVendi Connect, you become part of a network of enterprise partners who've already embraced the future of automotive finance technology.
Integrating iVendi Connect into your brand's ecosystem is a straightforward process. Our dedicated team of experts will work closely with your IT and development teams to ensure a smooth and hassle-free integration. Whether you're tech-savvy or new to APIs, we're here to provide comprehensive support at every step.
With enhanced customer experiences, customisation options, real-time calculations, streamlined workflows, and future-ready innovation, iVendi Connect is not just an API suite but a transformative tool for your business's success.
To learn more, visit contact us and take the first step towards unlocking a new era of financial connectivity.