Empower your digital sales journey
Progress buyers further down the funnel with effective and strategic calls to action that transform casual browsing visitors into qualified sales leads.
A clear buying journey eases prospective purchasers through each step, demonstrating the affordability of your vehicles, and giving consumers the tools they need to find the perfect deal.
Convert at a glance…
How Convert has been performing for retailers
Platform figures for Jan - Dec 2022
£1.6 Billion Finance Deals
Convert browsers to buyers
Multi-lender quote and compare
Multi-lender functionality helps consumers find the right finance deal for them and gives them the confidence to apply for finance with you rather than with a direct-to-consumer lender. With tools to tailor finance via multiple lenders and products on offer, buyers can compare a range of finance options without ever leaving your site.
Create your path to purchase
Increase finance penetration and overall profitability with tools to build a fully optimised path to purchase. Meet consumer expectations, and keep potential customers engaged with dedicated calls to action. Convert keeps consumers on your website for longer, giving them confidence to apply for finance with you directly.
Safe and Secure
We keep data safe at every step of the buying journey with the Consumer Hub, a secure transactional portal that gives purchasers the control to manage and monitor finance checks and complete finance applications. Retailers can monitor the progress of the sale, submit finance applications directly to lenders, process online vehicle reservations and receive status updates on submitted applications.
More buyers, more sales, more quickly
Turn your website into a 24hr showroom by allowing consumers to shop at their convenience.
Our data shows that the majority of online browsing activity happens between 6-10 pm, when showrooms are closed.
Create a digital experience that buyers can access at any time, providing self-service tools designed to optimise every step of the journey and lead buyers further down the sales funnel.
We've got your customers covered
Whichever way consumers want to buy, we've got you covered, with a wide range of features designed to capture consumers at different stages of the buying journey.
Convert offers shoppers the ability to personalise their finance quotes with online payment calculators, check their financial eligibility with pre-approval tools, reserve the vehicle online and apply for finance directly with you.
Easily switch between online and in-person buying experiences, seamlessly transitioning customers from the website to the showroom.
All leads aren't created equal
Too often, lead generation tech will emphasise quantity over quality, but having to sift through low-quality leads on a regular basis is a waste of a retailer's valuable time and rarely result in valuable sales opportunities.
Convert gives retailers the ability to capture consumers in-market who are primed and ready to buy, providing a boost to efficiency that has a significant impact on bottom lines.
Convert transforms your website into a lead generation channel, that captures relevant consumer information and turns it into valuable pre-qualified vehicle finance leads.
Pre-qualified leads give your sales teams all the information they need to swiftly follow up once a consumer has demonstrated interest in your vehicles.
Highlight the affordability of your vehicles
Builds trust and help customers make informed purchasing decisions
By allowing your customers to input their preferred deposit, monthly payment amount, and contract length when searching for a vehicle, Convert calculates the total cost of ownership for a vehicle, providing a personalised payment option that makes it easier for customers to find a vehicle that fits their budget.
With a transparent breakdown of costs and a comparison tool, Convert builds trust with customers and helps them make informed purchasing decisions.
Being mobile-friendly, the tool is convenient and accessible for customers on-the-go, increasing the chances converting to a sale.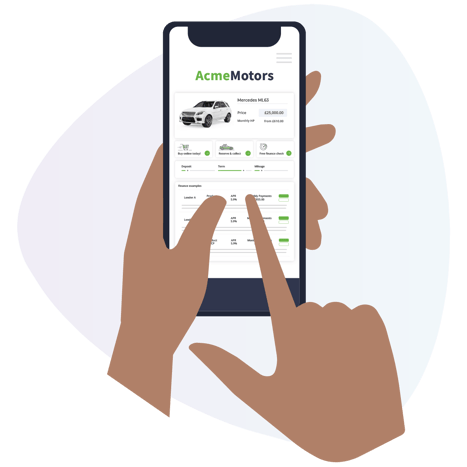 Maximise Finance Penetration
Increase Finance Penetration and overall Profitability
The ability to offer multiple finance products across different lenders is proven to increase finance penetration, and Convert sets out the options in a clear format that helps consumers find the right option for them. Pre-approval checks remove the stress from an application and increase its chances of leading to a successful purchase.
Just over 64% of used cars, and over 90% of new cars, are bought on finance, providing a massive opportunity for retailers to maximise their profit on every vehicle sold.
The next step in your sales journey
Manage your sales process from start to finish with iVendi Transact, online and showroom deal management technology.
Control your sales process from wherever you are, send bespoke quotations, and give consumers the end-to-end vehicle buying experience they've come to expect.
Schedule a demo
See how Convert can help generate better quality sales and finance leads, and get your website working for you!
More from iVendi
Discover more about iVendi, read our resources and browse our knowledge base.