Louise Bullock
Seven habits of successful automotive retailers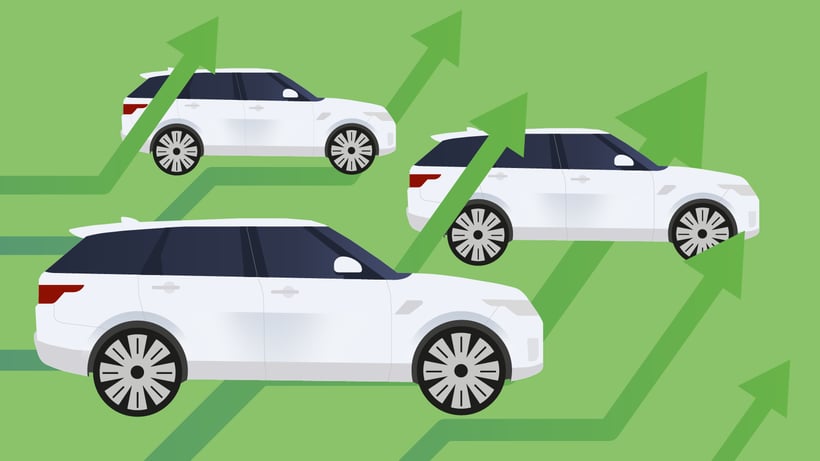 The digital landscape is an integral part of any successful business, and ensuring the right tools are used to achieve business goals is the first step for many modern businesses.
Automotive retail is no different - It's now an environment where traditional retailers need to be thinking like online retailers.
The nature of each sale means consumers want to spend more time in the research phase, learning as much as they possibly can about the product they want to buy, before they engage with any retailer.
Here are some habits we think can help modern retailers remain successful, with some examples from our customer network.
1. Accommodate the distance customer
The world has changed a lot in recent years.
Having a strong online presence lets you broaden your reach and engage with more customers from further afield.
One thing the pandemic will have taught both savvy online buyers and savvy dealers is that distance needn't be the barrier it has been viewed as in the past.
The average distance from consumer to dealer has almost doubled for dealerships that provide some kind of online sales journey.
The average distance in-person buyers are willing to travel is 28 miles, but the average distance online buyers are willing to travel for a vehicle is 50 miles.
David Horgan, Director of Avenue Car Sales and user of iVendi TRANSACT recently spoke to us and recounted a customer who'd crossed the country to purchase a vehicle:
"I had a customer who was more than 200 miles away from us and wanted to have a look at one of our cars but wasn't sure how to go about it. I sent a Digital Deal and, once he got accepted for finance, he came down that afternoon, did a test drive, signed and drove away. That sale wouldn't have happened without the Digital Deal being available."
2. Be flexible and adaptable to change
Businesses across all sectors have had to adapt to increasing consumer demand for digital touchpoints, something that was accelerated by the pandemic.
Dealerships of all sizes understand the need to become more flexible to meet their customer's needs.
Many retailers are stuck with what we call 'online 1.0' e-commerce systems which lock them into doing business in a way that no longer suits what is happening in the real world.
This is evident in our figures, Digital Deal, the distance-selling tool built into iVendi Transact, saw a 33% increase in use. The system enables retailers to take the showroom experience online, working with the customer to find a vehicle and finance a deal that works.
One business that made use of iVendi's technology during the pandemic was Derby's Car Quay, and its owner Jamie Caple, who spoke about how their business adapted during the pandemic:
"We realised that we needed to change and adapt. We already put lots of pictures of our cars online and were selling them to people at a distance but what the situation has done is put a focus on dealing with people remotely.
Ultimately, we've been successful. A couple of lean months early on have been more than compensated for by the volume of cars sold since the lockdowns."
3. Refine the customer journey
We believe online retail tech shouldn't replace the physical customer journey, and instead should work with it and further empower both the customer and retailer.
For many businesses, the first point of contact with the customer is now online. Many retailer websites cater to most consumer needs, but can often fall flat when it comes to providing an intuitive experience that provides real value.
Creating a refined customer journey can provide an additional revenue stream for a dealership. Bringing some of your in-showroom processes online can both speed up your customer journeys and improve customer satisfaction.
Scott Sibley, Owner of Redgate Lodge, and an early adopter of digital retail technology had this to say about the customer journey:
"Redgate Lodge were early converts to the idea of online used car retail and have steadily improved our offering in this area over the years, incorporating more and more elements to create a pretty refined online customer journey. This is something that has paid dividends since the onset of the coronavirus crisis because we were very well positioned to adopt new trading models with a strong digital element."
4. Give customers the right tools
The digital rebound from the COVID-19 pandemic has presented retailers with unique opportunities as consumers change the way they choose to shop.
The acceleration towards digital transactions in many areas of life has brought about a more diverse customer base for retailers, customers who are more willing to engage with online tools, and self-serve much of the buying journey.
Giving customers the right tools to engage with your business online is key to maintaining profitability in changing conditions.
iVendi Convert and Transact, for example, let retailers stay versatile regardless of conditions.
Convert brings much of the finance journey online through instant quotes and applications, and Transact lets you sell vehicles from anywhere, even if your showroom is closed.
A great example of a business providing customers with the tools they need to complete their journeys online is Top Car Inverness, we spoke to Craig Walker, owner of Top Car and user of the iVendi system:
"I spend a lot of my day videoing cars! It's that kind of thing that makes a real difference when you do things digitally. Customers now spend much more time looking at images and one of the advantages of working with iVendi is that thanks to its integration with CitNOW which we use for our imaging, potential buyers can launch online finance options directly from the video."
5. Be efficient
Efficiency presents business with multiple benefits, with reduced costs and time savings being the priority.
Once a customer has developed their initial interest in a vehicle to the point where they're ready to progress with the retailer, they want the next steps to be as quick and convenient as possible.
Managing the complexities of the sales and finance process can be cumbersome and require multiple platforms running in tandem, providing a lot of work for sales and administration staff who need to re-key and re-propose the same information repeatedly, leaving a lot of opportunity for human error.
The benefits created in a web environment are helping to deliver better customer service.
A retailer who's used technology to put efficiency at the centre of their business is Adrian Cairns, Finance Controller of Kendrick Cars, and a user of the iVendi TRANSACT system:
"TRANSACT is easy to use and helps us keep our edge. Importantly, it saves us hours and hours of inputting because we can do all the proposing and administration using the system, reducing the need for rekeying and cutting down on human error."
6. Offer multiple types of service
More than a third (37%) of used car buyers self-served motor finance and other elements of their purchase online during the most recent lockdown.
This indicates that around two-thirds of sales still originated from traditional means such as telephone or e-mail.
No two customers are the same, and their needs differ greatly depending on how much or how little they want to engage with certain parts of your business. Being able to meet as many customers as possible can pay dividends.
Reed Autos have been offering two types of services - independent viewing where customers visit the showroom and drive the vehicle away, and contactless delivery. Younger customers have readily taken to the idea of completing everything online, and have opted to have their vehicles delivered.
We spoke to Business Manager, Daniel Espin who's recently taken on the TRANSACT module as a means to improve their sales and finance process:
"We have been using multi-lender quoting and submission as well as finance checking and finance calculators. It's delivered strong results for us. When TRANSACT was offered free of charge at the end of April to help dealers through the coronavirus crisis, we upgraded immediately.
7. Always be open
The digital showroom never closes, and digital tools can help maintain profitability and keep sales channels open, even when the business is closed.
Retailer websites and marketplaces remain a critical part of the vehicle-buying journey.
This is the digital forecourt, and it is crucial to have the right technology online to cater to all types of buyers.
Jamie Prest, Sales Manager at Draytons, spoke to us about making his business more accessible online:
"It's very much the direction in which the market is moving. You have new companies like Cazoo who are only doing home deliveries through their website and no showroom sales at all. Those kinds of developments change customer expectations and we think it is right to adapt to the times."
Conclusion
Vehicle retailing presents many complex obstacles to navigate around, and utilising the right technology can make that task much more manageable.
Digitisation has provoked more change in motor retail and vehicle finance in the past five years than in the decades before combined.
It is essential to learn from the experiences presented by challenges such as the pandemic, adapt what we can into good business practices, and create more agile businesses that are ready to deliver under any circumstances.
Where can I learn more?
Discover more about what the future of vehicle retailing holds by downloading our full whitepaper, Connected Retailing: Addressing the Challenges of Digital Transformation today.