---
Why are motor finance eligibility applications likely to fail?
Sep 09, 2021
Being refused credit for car finance is not a desirable outcome for customers and retailers alike.
A refused application can slow down or stop the sales process for retailers, hurt the customer's credit score, and decrease the customer's confidence in their purchase decision.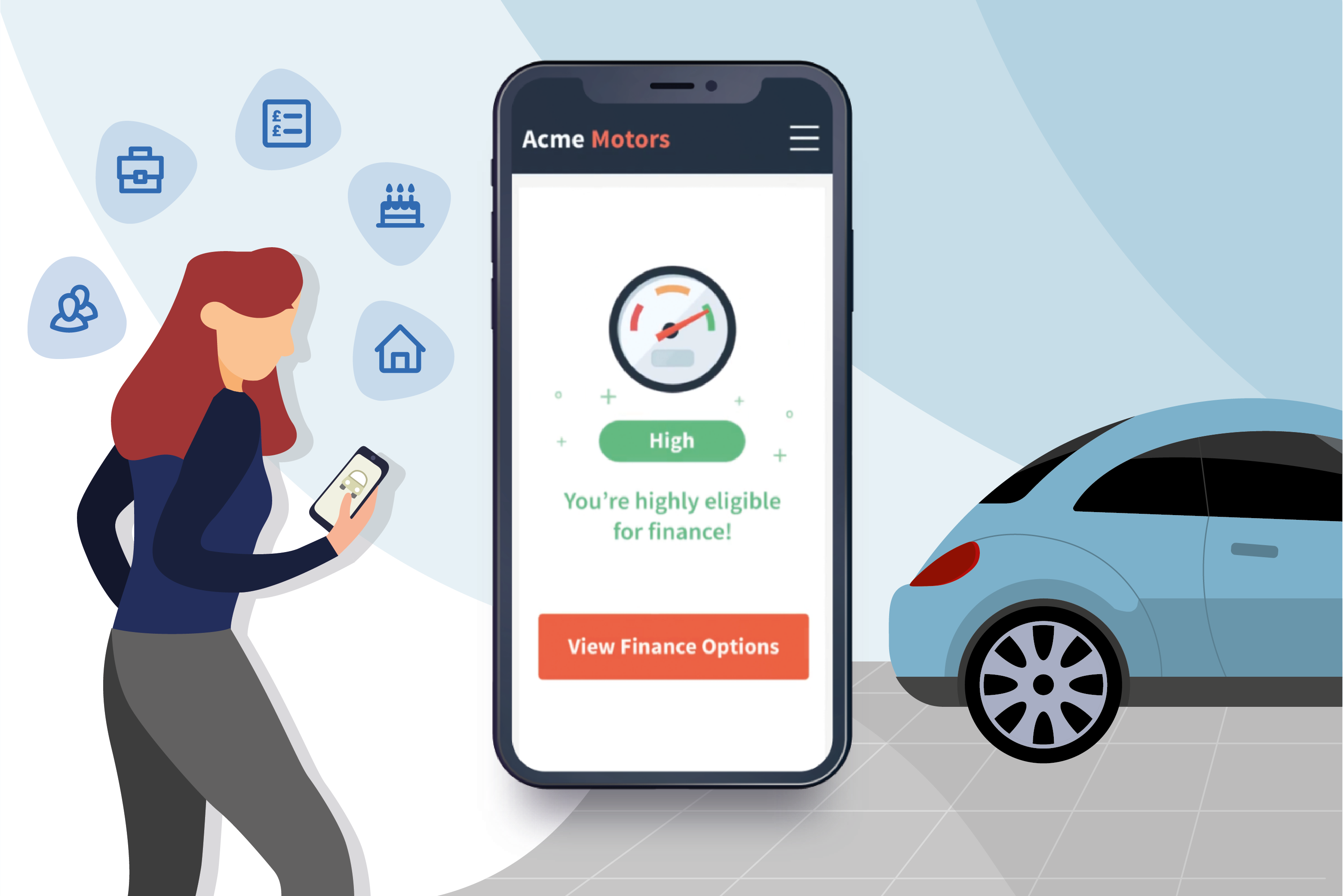 Finance on a vehicle can be refused for multiple reasons, some of which are major factors such as outstanding debt or a poor credit rating.
However, it is often the case that the customer has simply not met the lender's underwriting eligibility criteria, something they could meet by making a few small changes to their application.
In this post, we'll cover why some applications can be refused, and what vehicle retailers can do to become more efficient in identifying the right finance products ahead of having the customer submit a full finance application.
What is finance eligibility, and why does it matter?
In short, finance eligibility is a guide to the likelihood of a finance application being accepted by a finance lender.
In motor retailing, finance eligibility impacts what products a customer can apply for and purchase.
Finance lenders have underwriting criteria for their finance products, and consumer applications are accepted or rejected based on factors such as an individual's budget, product affordability, consumer credit score, employment status and age.
The difference between a successful finance sale and a lost deal depends on the customer's eligibility for the products they've chosen.
Until now, seeing a customer's likelihood for credit approval has relied upon making an application with a lender, and if multiple applications are unsuccessful, could hurt the customers' existing credit score.
How can vehicle retailers check customer finance eligibility without submitting a full finance application?
A technology first being introduced by iVendi will allow retailers to advise any potential used car, van, or motorcycle buyer on why their online motor finance application is likely to fail – and adjust it accordingly through the new Eligibility Summary.
Eligibility Summary is an upgrade to the existing iVendi Finance Check, which means when a customer tests their likelihood for finance approval online using iVendi technology – an option already used by over 900 retailers – a report covering any rejections will be sent to the dealer.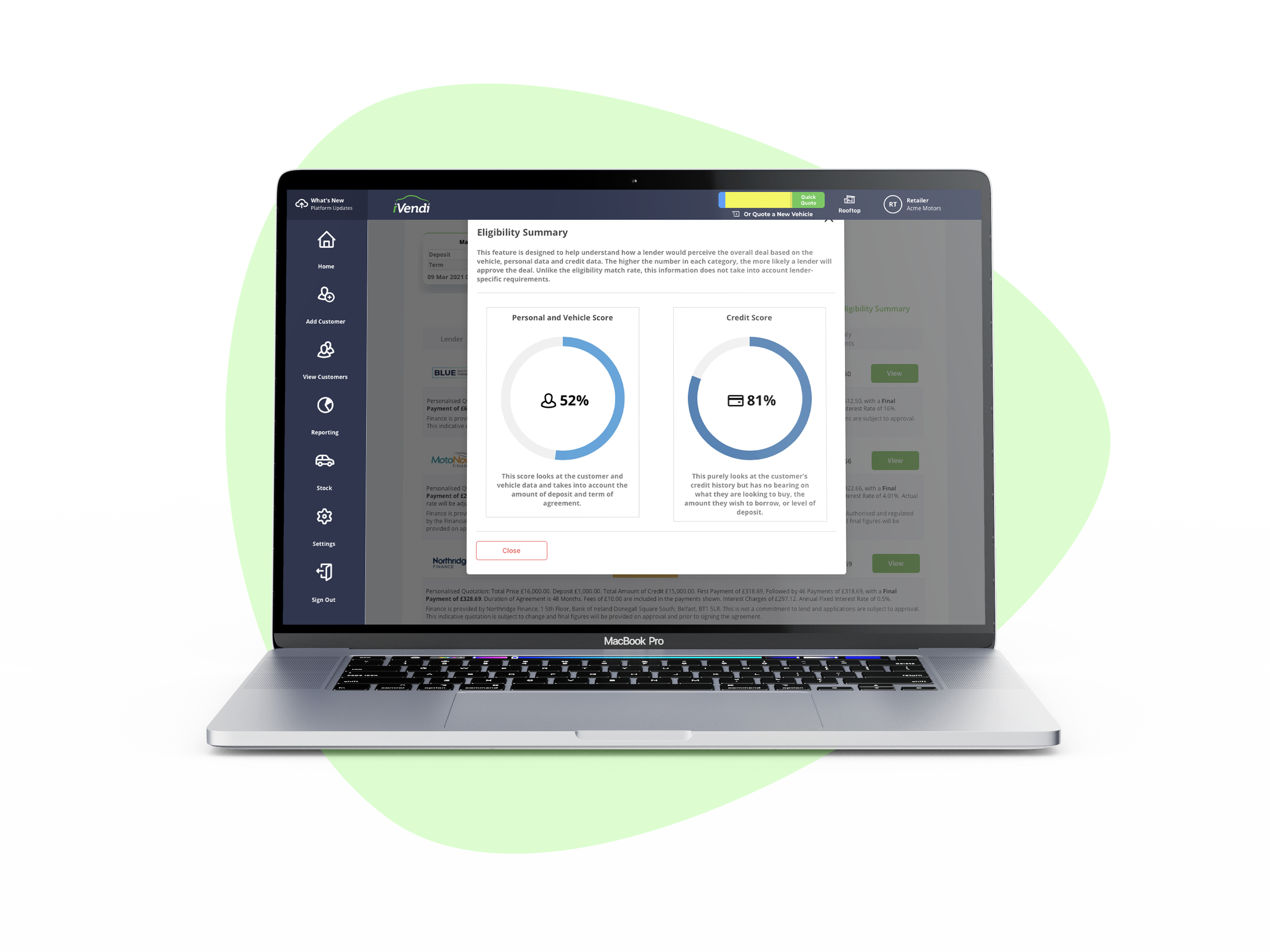 Eligibility Summary provides a two-part analysis:
Firstly, a credit score and an applicant score are shown to the dealer, related to the customers desired vehicle. The score is based on iVendi's algorithms that output the strength of the applicant, shown as a percentage figure.
Secondly, a product-by-product assessment highlights where the applicant stands based on the criteria of each lender. These include policy rules on the vehicle and loan-to-value, information from the consumer's credit file, and specific lender product rules for the applicant's details.
An Eligibility Summary enables retailers to inform their customers of potentially failed applications before they happen, highlighting what steps can be taken to change the outcome of a finance application, ensuring that when an application is made, it comes back approved.
James Tew, CEO at iVendi, said: "The report will enable dealers to gain a much deeper insight into the reasons why an application may fail a lender's underwriting criteria, something that is currently simply unavailable to them and provide specific guidance to the customer on how to improve their chances of success.
"Steps taken as a result could range from increasing the deposit to opting for a different product altogether.
"Eligibility Summary will help retailers become more efficient by identifying the most suitable lender products based on the make-up of the entire transaction, driving efficiencies for retailer and lender, while meeting customer needs more exactly.
"Ultimately, it transforms online leads into highly qualified prospects that can quickly be turned into deals in a manner that we believe is new in the motor finance sector."
Eligibility Summary works with any eligibility checks made through iVendi's CONVERT product, part of the Connected Retail range which was introduced last year.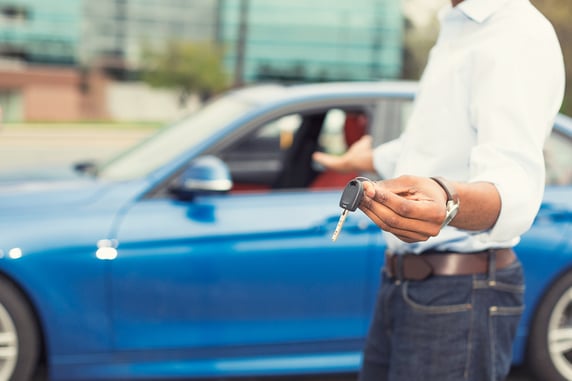 Tips and reminders when processing Finance Applications.
Conclusion
Eligibility Summary is an upgrade to the eligibility checking tools available through iVendi's CONVERT product, part of the Connected Retail range.
An Eligibility Summary can help retailers improve their finance application acceptance rate, by giving their customers insight into whether an application will be approved before it's submitted to a lender.
For more information on how iVendi's tools can help your business, contact our team today.

Get the latest industry insight from iVendi by downloading our white paper, Connected Retailing: Addressing the Challenges of Digital Transformation, and see how consumers and digital activity are impacting the market, and how emerging technologies continue to re-shape the automotive retail space.
---