Louise Bullock
What do consumers really want from an Electric Vehicle?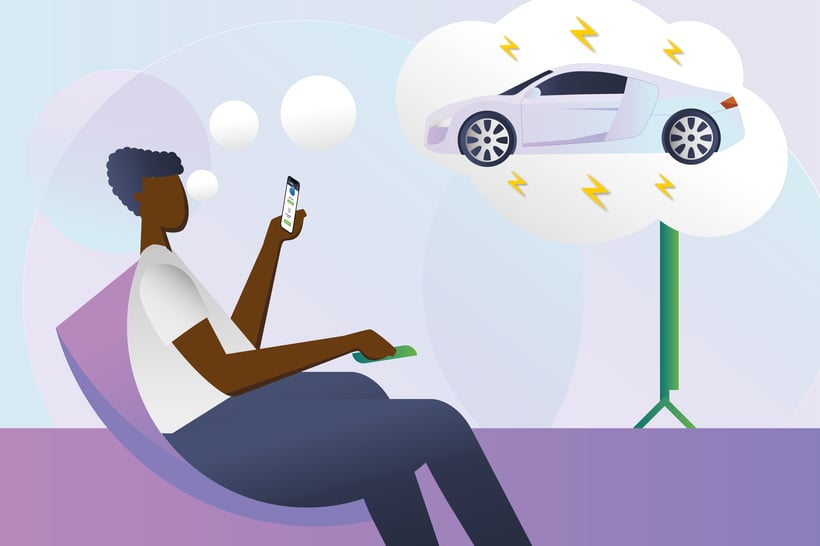 It's a well established fact that consumer attitudes change over time.
Brands and companies that can adapt to meet the needs of consumers, and also reflect their values, have a greater chance of success.
The motor industry is no different. Over the years' car, van, and motorcycle manufacturers have changed dramatically to reflect the attitudes of their customers.
From mandatory safety features introduced through NCAP ratings, to including what used to be optional extras as standard kit, and almost killing off the stereo aftermarket entirely.
Growing concern around our impact on the environment and the introduction of Ultra Low Emission Zones (ULEZ) has seen people taking a more considered approach to their transportation choices, and the footprint they leave on our planet.
The electric car is not a new idea, some of the first electric cars started to appear as far back as the late 1800's.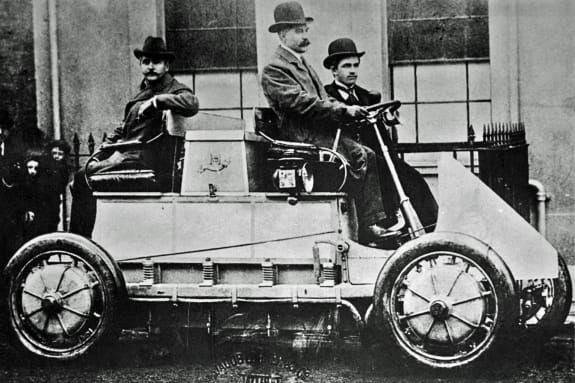 The Lohner–Porsche Mixed Hybrid was the first gasoline-electric hybrid vehicle, and was developed by Ferdinand Porsche at Lohner-Werke.
As for the modern era, GM released an electric vehicle as far back as 1996 in the form of the EV1, a technical marvel for it's time, and the first mass-produced electric vehicle to be released by a major manufacturer.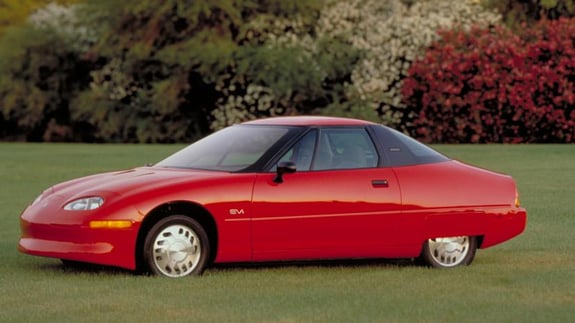 The General Motors EV1 was the first mass-produced and purpose-designed electric vehicle of the modern era from a major automaker and the first GM car designed to be an electric vehicle from the outset.
In this post, we'll look at what consumers really want from electric vehicles, and look at how retailers can enhance the buying journey with new technology.
What are consumers actually looking for from an electric vehicle?
Over half of young drivers (16 - 49) say they are likely to switch to an all-electric vehicle within the next decade, that's roughly two cars time, and when the sale of new petrol, diesel, and hybrid cars will come to an end.
So, what are consumers actually concerned about when it comes to buying an electric vehicle?
An Audience Intelligence review by Pulsar highlights four core concerns consumers have when considering the purchase of an electric vehicle.
1. Charging & Range
Charging and range remain the top priority for consumers entering the electric vehicle market. Whilst having their differences, the two go hand-in hand as consumers worry about how to charge, and how often they can charge their vehicle.
The concern around charging & range has been a constant barrier to entry for many electric vehicle buyers, resulting in what's called Range Anxiety.
However, more and more service stations now have some form of electric charging facilities on-site, reducing the range anxiety felt by many consumers.
2. Price
The concern surrounding price will come as no surprise to anyone versed in automotive retail.
Electric vehicles are new to the market. Retailers, and consumers alike, don't quite know enough about them to foresee how they'll perform on a long-term basis.
One of the biggest cost factors for electric vehicles is the battery. Currently, the battery accounts for approximately 32% of the total cost of an electric vehicle.
However, battery costs are falling fast, and Transport & Environment predicts that battery prices will fall by 58% between 2020 and 2030, and even without subsidies electric vehicles will become cheaper than internal combustion engines by the mid 2020's.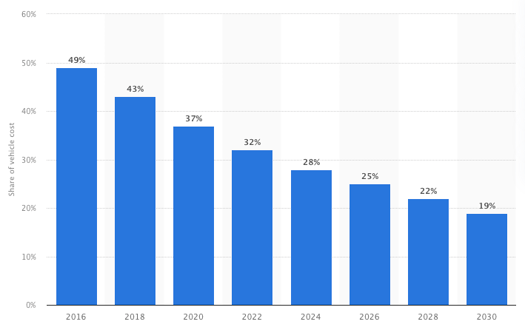 Projected battery cost as a share of large battery electric vehicle costs from 2016 to 2030 - via Statista
3. Driving experience
People like driving, there's a level of enjoyment that comes from driving a car down your favourite road.
A lot of consumers worry that they'll miss out on the thrill of driving when making the switch to en electric vehicle.
Some things can't be avoided, the roar of a combustion engine definitely can't be emulated by an electric vehicle. However, electric vehicles have many advantages over traditional motors for driving enthusiasts.
Electric vehicles are easy to drive, with instant torque. There are no gears to worry about, in fact, unlike a traditional automatic, an electric car doesn't even have gears.
Electric motors are responsive, making even the most humble models a fun driving experience.
4. Aesthetics
The last concern for consumers is aesthetics. Electric vehicles differ in looks to traditional vehicles, however the look and feel of a vehicle permeates the entire market, electric motor or not, and will be nothing new to seasoned motor retailers.
According to Pulsar's research, only 7.3% of consumers are any more concerned with the aesthetics of an electric vehicle than they would be a conventional vehicle.
How to make finding an EV as intuitive as possible for consumers.
Many of the needs consumers have for electric vehicles will match their combustion engine counterparts, however, there are some EV specific requirements that many retailers may overlook.
iVendi's ENGAGE product lets consumers search for vehicles the way they think about vehicles, and we've just released a new update to the smart search which caters for electric vehicles.
So how does this impact retailers using ENGAGE who want to introduce electric vehicles into their stock?
We spoke to Rob Severs, our Senior VP of Product and Insight, who explained: "Car buyers are becoming both more curious and more informed about electric vehicles so now is very much the right moment to be introducing this enhancement. Our own data shows that over the last 12 months, we have had a 100% increase in pure electric vehicle searches."
"We've worked hard to ensure that the intuitive phrases that our search engine recognises will closely match consumer use of the same language, although this is a fast-moving area and it will need to be continually modified."
The latest update adds EV specific terminology to our intuitive natural language engine, letting the customers search by phrases and key terminology, rather than relying on tick boxes or dropdown menus to filter for electric transmission.
Rob said: "Traditional vehicle search has barely moved on since the earliest days of the internet. It is largely driven by the idea that you already know what you want.
"If you're looking for a 2018 Fiesta Zetec in blue with less than 20,000 miles, it works well for you. However, if you are one of the six out of 10 buyers who have no specific vehicle in mind when they start the process, and just know that you want a fuel efficient small hatchback and have £200 a month to spend, it is much less successful.
"What we have done with ENGAGE is to turn the process on its head. Customers can type – or speak - into the search bar to enter the process in a more natural way. You could enter 'fuel efficient seven seater" and specify a £200 monthly budget' and it would deliver a range of viable options immediately."
He added that the technology also effectively learnt about the user through the search process to refine their results over time using a relevancy filter.
"You might type in 'fast car with black alloys.' For some people, that means a Fiat 500 Abarth and for others, a Lamborghini. By looking at the results you click on, it works out which you are seeking and narrows what it is showing you.'"
A further innovation, Rob added, was that ENGAGE allowed new and used vehicle results for cars, commercial vehicles and bikes to be shown side-by-side – something almost unknown currently.
"For historical reasons, search technology tends to strictly demarcate new and used cars and vans but consumers rarely make the same distinction. This could be important for EVs, where customers are likely to be especially flexible about whether they buy a new or used vehicle, given current supply and pricing conditions."
How to include Electric Vehicles at the start of your buying journeys.
ENGAGE from iVendi enables retailers to deliver highly targeted smart search results based on their stock that puts the most relevant vehicle front and centre, and direct customers to related vehicles that also fulfil their needs.
ENGAGE is designed to be intuitive and easy to use, built with buyers and retailers in mind, making the online vehicle buying process as easy as possible on both sides of the transaction.
All stages of the vehicle purchase and all types of buyers are considered, from feature-based shoppers to vehicle enthusiasts who know exactly what they want.
Whatever your customers search for, they'll find!
If you'd like to see what iVendi ENGAGE can do for your business, book a demo with a member of our team today!
Get more insight into search...
Discover why search should be at the heart of your digital strategies with our latest white paper, Using Search to Power Sales.
This white paper has been designed to demonstrate the latest thinking on search, and consists of five key steps for retailers to assess their digital strategies, and discover how they can adapt their approach to suit the modern consumer.