Rob Severs
Meeting the FCA's Consumer Duty Obligations with Accurate Management Information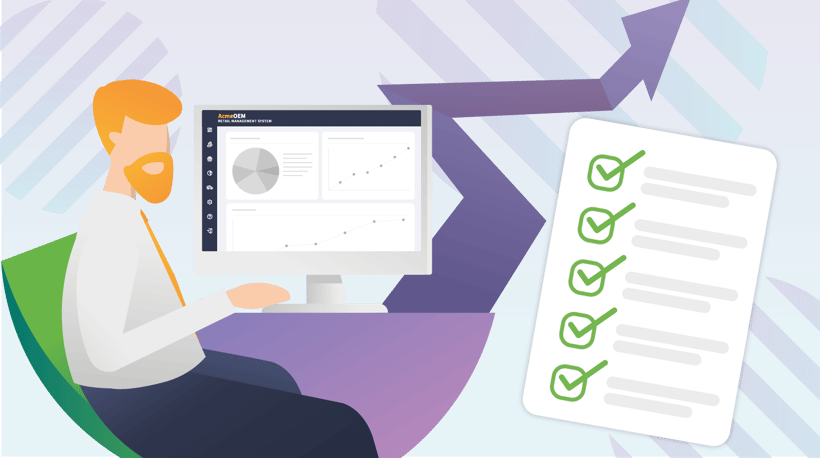 The Financial Conduct Authority (FCA) has recently introduced a new regulation called the Consumer Duty. The regulation is aimed at improving consumer protection in the financial industry and ensuring that firms put the interests of their customers at the heart of their business.
Under the new Consumer Duty, firms will need to ensure their data strategies will be able to identify, monitor, and evidence the outcomes their customers experience in order to assess and showcase how they are acting to deliver good outcomes for their retail customers.
As a motor retail technology market leader, we believe that compiling accurate and timely management information (MI) will be crucial for meeting these new obligations. In this post, our Senior VP Product and Insight, Rob Severs, highlights the importance of monitoring essential metrics over the long-term in proving that customer needs are being put first.
"As the new Consumer Duty rolls out, much more responsibility is going to be placed on retailers to track consumer activity along every step of the finance journey", says Severs.
"MI will play a crucial role in helping both lenders and retailers prove compliance and continuous improvement in Consumer Duty. It provides the data and insights necessary to understand how good vehicle buyer outcomes are being delivered and where improvements need to be made."
What is Consumer Duty?
The Consumer Duty regulation is a new set of rules proposed by the Financial Conduct Authority (FCA) to ensure that firms are working to deliver good outcomes for retail customers. These regulations aim to improve customer outcomes by requiring firms to act in the best interests of their customers, provide information that is easy to understand, and make it easy for customers to switch to a different provider if they want to.
Why is Management Information important in meeting Consumer Duty regulation?
Management Information provides businesses with a clear understanding of how their customers interact with their products and services. This data can help businesses identify areas where they need to improve customer outcomes, identify trends, and ensure that their products and services meet customer needs.
To meet the Consumer Duty regulation requirements, firms need to have accurate and up-to-date MI that should include data on customers interactions, customer complaints, and customer satisfaction levels. Businesses should also use this data to assess the effectiveness of their processes, procedures and products.
MI can also help firms to identify areas of risk and potential breaches of the Consumer Duty regulation. By analysing data and identifying trends, businesses can take proactive steps to address any potential issues before they become a problem.
How can I ensure I have the right Management Information in place?
To ensure that they have the right MI in place, businesses should conduct regular reviews of the data management processes, improve their data collection processes and ensure that their staff are adequately trained.
Rob advises dealers and lenders to create a checklist to ensure that the MI they compile meets basic requirements.
"I suggest tracking several MI metrics for the motor retail sector, including the volume of rejections, complaints, customer feedback, and outcomes of sales reviews.
"For lenders, Consumer Duty should result in an increase in applications from its target customer base and a decline in rejection volumes. It's important for lenders to ensure their products are being introduced correctly. Lenders, as product manufacturers, will rely on distributors to provide low-level MI for each finance product, including conversion rates, product suitability, accuracy metrics, and more.
Dealers, on the other hand, will need to ensure they have a fair and transparent panel of lender products to offer customers, demonstrating compliant processes and value to the end-consumer. Most retailers who are operating with a multi-lender panel, are very likely to be submitting applications and checks individually to those lenders. Relying on separate processes and systems leaves too much room for error - something the FCA want to avoid when it comes to consumers' private information - and easy to do when running the same information through multiple systems. They will rely on IT system providers to help them manage this process across multiple lenders and provide data such as audit trails, market finance rates, and sufficient insight to produce accurate representative examples."
How can iVendi help?
At iVendi, we understand the importance of technology in delivering effective results with greater accuracy and speed. We are already working with motor retailers and lenders to put these processes in place, ensuring that all compliance needs are gathered in one place, including data protection and consumer rights laws and regulations.
Our latest whitepaper, Navigating Consumer Duty Regulations in the Automotive Sector: The Role of Technology in Achieving Compliance and Enhancing Customer Experience has been designed to help you to better understand how you can meet Consumer Duty regulations with the right technology, helping you to deliver good outcomes for consumers and enhance customer experience.
Contact us today to learn more about how we can help you meet the FCA's Consumer Duty responsibilities with confidence.
Not Sure Where to Start?
Our new Consumer Duty Ultimate Bundle is the perfect product mix created to support dealers in meeting their requirements under the new FCA regulations, designed to satisfy the four outcome areas while aligning sales journeys with the three cross-cutting rules.
Dealers can easily upgrade their existing technology stack to the new package, which includes all the features they need - finance calculators, online and showroom finance checking, multi-lender quoting and submission, vehicle reservations, FCA and commission disclosure status, lender-specific product information, lender product videos, product suitability assessments, support services signposting for vulnerable customers, customer credit rating, stock engine, customer self-serve tools, online finance applications, iVendi's Digital Deal, application interceptions and comprehensive management information.
Learn more about how iVendi's Connected Retailing Platform can help strengthen your compliance strategy.