Louise Bullock
Why you need landing pages for your paid ads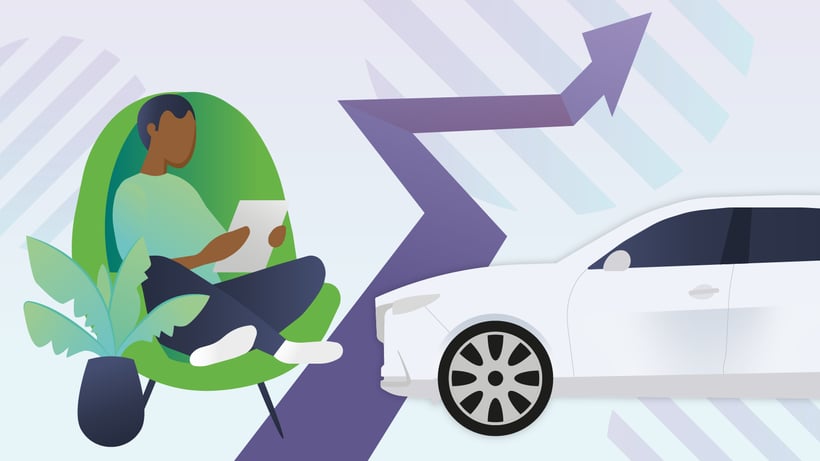 Pay-per-click advertising can be expensive, especially if you're advertising in a highly competitive space like automotive. However, the reality is that most automotive retailers need to take advantage of the platforms to remain competitive.
Now, there are some obvious tactics you can adopt to make your cost per click go down, and things you can do that can help make your targeting more effective, but what about after the click? Do you offer all the information that the audience might want, in one place, once they click through the advert? If you don't then you may not get the return on investment that you hope for.
In this post, we'll take a look at some of the reasons you need to create unique landing pages for every vehicle you're advertising, and how doing so can help improve your conversion rates, and ultimately sales.
What is a landing page?
Simply put, a landing page is just that, a page a user lands on after they click a link on the web.
The key difference between a landing page, and any other page on your website, is that landing pages provide more flexibility in the content they deliver, and provide you more control when choosing where they appear and how they're found.
Landing pages are the perfect partner for PPC advertising, where, instead of directing users to your main website, you can keep them on the path to purchase by streamlining the actions they can take once they arrive on one of your pages.
In most cases, landing pages can be built using templates, meaning they don't require much development work, and can usually be done in-house by the person who manages your main site.
4 reasons why you need landing pages for your paid ads
Here's a handful of reasons why landing pages are the perfect partner for your ad spend, and how you can get the most out of every penny spent on your digital ads.
1. Landing pages show highly relevant content.
Unlike your main website, which is designed to showcase the entirety of your business, a landing page can be built to suit the needs of a specific advertisement.
For example, suppose you're running ads on used Audi's in York. In that case, you could build a landing page that only showcases the Audi's you have in stock, and while also providing additional geographic targeting through the ad itself.
On the other hand, if you have a specific, high-value vehicle you'd like to highlight, a landing page dedicated to that vehicle would also work - putting more emphasis on the product in question, helping you be transparent about the condition of the vehicle through high-quality video and images, building trust with the consumer, and keeping users focused on the vehicle on display.
Due to the nature of how landing pages are constructed, they typically have less navigation when compared to your main website, meaning there is less distracting content to take users away from the buying journey you've laid out for them.
2. Landing pages aid in conversion.
Fewer steps on the path to purchase mean a simpler journey for your customer.
Landing pages are specifically designed for their intended audience, so anyone who lands on the page is already arriving with some form of purchase intent.
The benefit of a landing page is that coupled with highly relevant content, all calls to action on the page are designed to progress the user to the next step along the buying journey.
You can also change your landing pages on the fly, run A/B tests on content to see what works and what doesn't, and track which calls to action are performing, all in an effort to make your buyer journey more streamlined and in turn continuously improve your conversion rates.
3. Increase organic traffic.
Landing pages have a huge advantage over a full website in the fact that the content on the page can be super specific, so specific that they're almost tailor-made to the search traffic you're trying to capture.
By tailoring the content on your landing page, you can optimise the entire page to contain relevant search keywords, keywords are words that define what the user has searched, that appeal to the user's intent, as well as include some long-tail keywords that help the landing page stand out against other, more authoritative pages.
4. Create a more personalised customer journey.
Another benefit of landing pages is the ability to create content that goes even further in meeting the needs of your customers.
A landing page can be built to match your customer personas, with content tailored to promote vehicles that appeal to them by lifestyle, budget, location, or even specific features.
By personalising the buyer journey, individuals are more likely to engage with the calls to action you've set out and find the products and services on offer more appealing.
Answering the customer's questions earlier in the buying journey, and ensuring they feel understood goes a long way to improving conversion rates, and long-term customer loyalty.
Get started on your own landing pages
The first step in building your own landing pages to support your PPC campaigns is to speak to your developer.
Provided you have an existing website, the addition of landing pages could be a free or relatively cheap addition to your existing package.
Alternatively, there are a bunch of free online tools available to help you get started.
Ultimately, landing pages account for only a single step in your overall buying journey, and are just one of the ways adapting your digital strategies can help your business grow.
We've recently published a guide on how to build better buying journeys, that looks at the overall strategies automotive retailers can adopt to improve the efficiencies of their online sales channels, and how they can turn website traffic into sales.
Learn more about how to adapt your digital and physical strategies, and download our Better Buying Journeys white paper here.