Jana Jones
Unlocking Consumer Duty Compliance: iVendi's New White Paper Sheds Light on the Role of Technology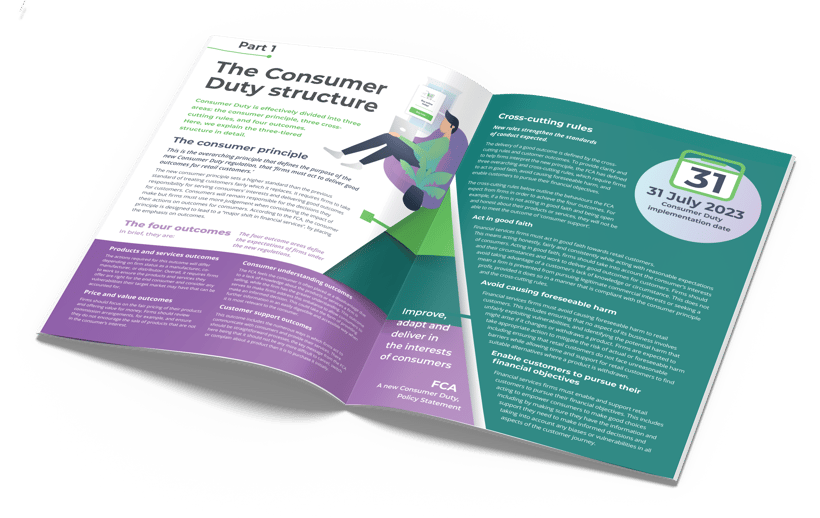 We have just released a new white paper that delves deep into the world of Consumer Duty compliance and how technology can make all the difference. Titled "Navigating Consumer Duty Regulations in the Automotive Sector," this free resource serves as a comprehensive guide for dealers and lenders on meeting their obligations under the new regulations. Drawing on our extensive experience working with thousands of retailers, manufacturers, and finance partners, the white paper sheds light on how the right IT systems can play a pivotal role in ensuring compliance and enhancing the overall customer journey.
Understanding Consumer Duty
This white paper takes you on a step-by-step journey through the ins and outs of Consumer Duty regulations. No more scratching your head and wondering what you need to do to keep the regulators happy. We break it down for you, offering detailed explanations and practical advice on how to show compliance like a pro. Say goodbye to confusion and hello to confidence!
Leveraging Technology for Success
James Tew, CEO of iVendi, emphasises the transformative power of technology in driving Consumer Duty compliance. It isn't just about ticking boxes—it's about revolutionising your business. The white paper advocates for a paradigm shift that leverages technology to enhance customer outcomes and streamline business processes and reveals how technology can be your secret weapon. Picture this: enhanced customer outcomes, smoother processes, and a compliance strategy that goes beyond the bare minimum. It's time to harness the power of technology and take your dealership or lending operation to the next level!
Sharing Knowledge and Building Relationships
Here's the best part, we aren't keeping all this insight to ourselves! iOur commitment to industry-wide collaboration shines through as we open up the conversation to the entire motor retail sector. The white paper serves as an invitation for dealers, lenders, and industry professionals to join the dialogue, contributing to the collective understanding and implementation of Consumer Duty compliance.Let's learn from each other, exchange ideas, and shape the future of Consumer Duty compliance together.
Looking Ahead
Once the July deadline hits and everything falls into place, we will start gathering management information on a grand scale. Why, you ask? To chart the course for continuous improvement, of course! We want to stay ahead of the curve, identify areas where Consumer Duty is working like a charm, and proactively shape the industry's compliance landscape.
The release of "Navigating Consumer Duty Regulations in the Automotive Sector" marks a significant milestone in the pursuit of Consumer Duty compliance. By combining our deep industry knowledge and technological expertise, we offer actionable insights and strategies for dealers and lenders.
It's time to embrace the power of technology, enhance the customer journey, and build a rock-solid compliance strategy. Don't miss out on this opportunity to level up your game. Get your hands on the white paper by following the link provided. Together, let's navigate the world of Consumer Duty compliance and transform our industry for the better. Buckle up, it's going to be an incredible ride!
Not Sure Where to Start?
Our new Consumer Duty Ultimate Bundle is the perfect product mix created to support dealers in meeting their requirements under the new FCA regulations, designed to satisfy the four outcome areas while aligning sales journeys with the three cross-cutting rules.
Dealers can easily upgrade their existing technology stack to the new package, which includes all the features they need - finance calculators, online and showroom finance checking, multi-lender quoting and submission, vehicle reservations, FCA and commission disclosure status, lender-specific product information, lender product videos, product suitability assessments, support services signposting for vulnerable customers, customer credit rating, stock engine, customer self-serve tools, online finance applications, iVendi's Digital Deal, application interceptions and comprehensive management information.
Learn more about how iVendi's Connected Retailing Platform can help strengthen your compliance strategy.