Louise Bullock
iVendi Product Updates - September 2022

We're continuously working to update our products & platform, from rolling out large new product upgrades, right down to smaller user experience updates that make the platform easier to navigate and use.
We've recently redesigned key areas of our popular CONVERT product with the aim of improving overall usability, conversion rates, and compliance.
Take a look at what we've been up to for the first half of the year:
CONVERT is a lead generation toolkit that transforms website visitors into qualified finance leads. Dealers can progress buyers further along the sales funnel using strategic calls to action including personalised finance quotes, finance pre-qualification checks, online finance applications, part exchange valuations, online reservations and the ability to compare multiple finance options.
CONVERT has had a number of updates, designed to make the product easier to use for you and the end user.
Update 1 - Enhanced privacy and data protection
The CONVERT widget has been enhanced with additional privacy features which allow consumers to select to opt-out of individual cookie types.
Cookies are used in the widget to enhance user experience and navigation, saving key information for users on return visits.

A new cookie policy warning displays the first time a user sees the CONVERT widget.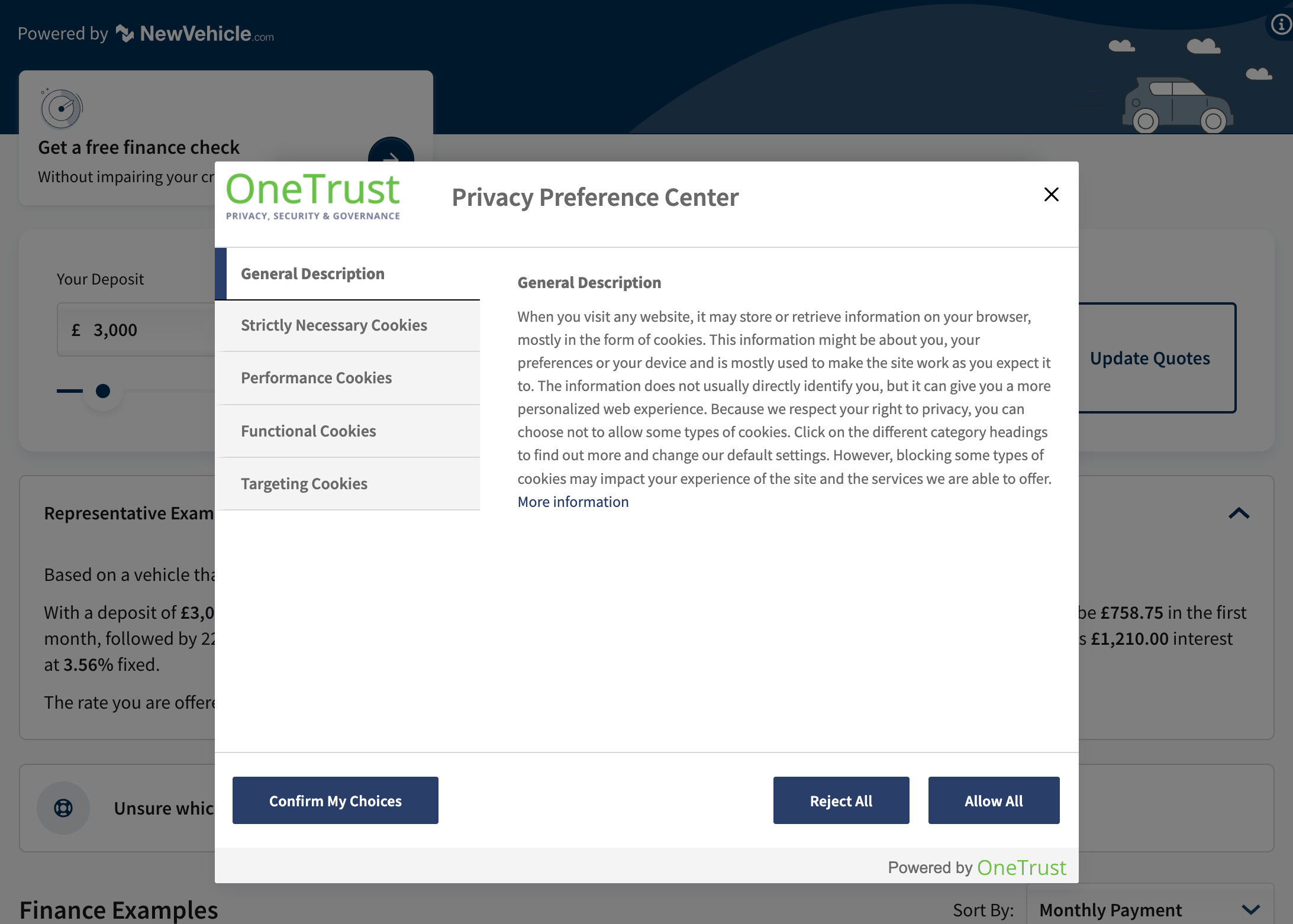 Enhanced cookie opt-ins are available, allowing users to opt-in or out of specific tracking to suit their privacy requirements.

Cookie policies and preferences are readily available to users who want to update their privacy preferences at any time.
We've added these enhanced privacy settings to improve the end-user experience. As the world becomes more digital, more consumers are concerned about how their data is handled and stored online. We've already contacted all major media companies to inform them of the change and we have included the option for media companies who are already collecting cookie preferences to pass that information to the Convert widget so that users won't receive additional pop-ups.
The update gives our customers the peace of mind they need to know that all technology provided by iVendi adheres to the strictest information and data security regulations.
Update 2 - Improved visibility of finance products
To further enhance the end-user experience for your customers who choose to purchase their next vehicle and finance with you, we've updated the way finance products are displayed, and how that information is broken down on-screen for the end-user.
To increase the visibility of your finance products, and to make product comparison easier for the customer, CONVERT now displays finance quotes in a grid layout, as opposed to a list, with the most important information highlighted.

Products are now displayed in a grid layout, highlighting all significant information relating to the deal.

In instances where multi-lender capability is used, additional lenders' products will display, providing customers with a comparison-site-like experience.

The update's primary design is to make the overall user experience simpler, and better for the customer shopping for their next vehicle, whilst also preparing for the upcoming FCA legislative changes in relation to commission disclosure and consumer duty.
It also helps meet modern consumer expectations - consumers who've become accustomed to product comparisons across a variety of online retail, from shopping for insurance, or comparing mobile phone deals.
So, why do we keep updating our products?
Rob Severs, senior VP product and insight, said: "These products have become so widely adopted that we now have a really extensive amount of information about the ways in which dealers and customers use them and which approaches are the most successful.
"The changes that we have made are very much based on this experience. For example, the presentation of key information from a range of motor finance quotes for potential buyers has been changed from a list to a grid to make comparisons easier. This may sound like quite a small shift but we know it has quite an effect.
"There are many other examples of this kind of fine-tuning, even covering subjects such as the integration of cookie consent, that will make CONVERT more effective for all users."
"The enhancements we have made are part of a process of continual development and optimisation that all our products undergo. Motor retail and legislation change all the time, and we learn more and more about best practices from many sources. It's a question of not viewing a product as a static entity, but something that is dynamic and evolves over time in response to changing conditions and new potential ideas."
Ready to get started?
Contact our Customer Excellence team to learn more about the new Privacy Centre and updated product layout.