Louise Bullock
Connected Retailing: Addressing the Challenges of Digital Transformation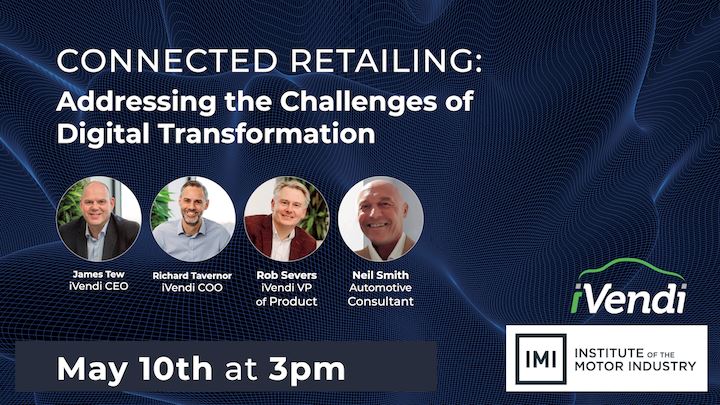 iVendi, in partnership with the Institute of the Motor Industry (IMI), is hosting a new webinar discussing the challenges faced by the industry's shift to an online retail environment.
"Connected Retailing: Addressing the Challenges of Digital Transformation" will be held at 3pm on Monday 10th May. Speakers will include automotive consultant Neil Smith, former Imperial Cars and Cazoo director; James Tew, CEO, iVendi; Richard Tavernor, COO, iVendi; and Rob Severs, VP of product at iVendi.
The event aims to highlight how dealers can undertake a digital transformation that will help them shift to a hybrid online and showroom model designed to attract and retain customers and maintain profitability under almost any circumstances.
James explained: "As a business, we've been talking extensively about the concept of 'connected retail' lately, by which we mean the need for dealers to employ technology platforms that work equally effectively across showroom and online.
"Since the start of the pandemic, the need to be able to move flexibly back and forth across both these spheres has been especially apparent, but we also strongly believe this approach represents the future of motor retail.
"The webinar is designed to discuss the changing retail environment and how dealers can adopt technology that allows them to manage the complexities of the vehicle buying journey digitally while maintaining a consistent and seamless buying experience across all channels, drawing on expertise from within iVendi but also featuring professionals from outside the company.
"We are working with the IMI this year as their finance partner, and are very pleased to welcome them as our hosts and moderators."
Open to anyone who works within the motor industry, register today for the iVendi & IMI Connected Retailing: Addressing the Challenges of Digital Transformation Webinar.
The IMI is the professional body for individuals working in the motor industry.