Louise Bullock
All about iVendi's new TRANSACT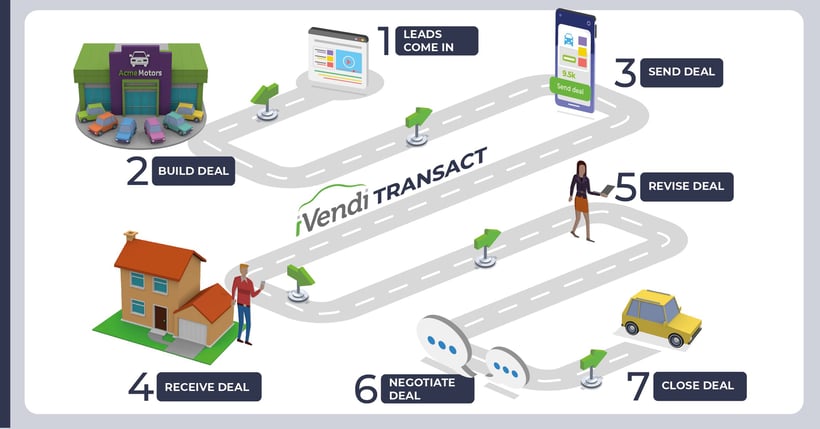 Last week, we announced that our very latest product, TRANSACT, would be provided to all of our direct dealer customers free of charge until further notice – and it has now been made available and live for the vast majority of them.
We made the product the core of our lockdown offering to dealers because we thought it would be ideal for the current conditions that the industry faces. This feature explains why its many innovations are supremely suitable for this moment in time.
James Tew, CEO, said: "Simply, TRANSACT is designed to progress consumer interest in a specific vehicle through to a final transaction while managing the complexities of the sales process. This may not sound particularly original but we believe it is the first product of its kind to properly reflect how car, van and motorcycle deals are built in the real world.
"Why? Well, actual vehicle buying transactions are complex in two fundamental ways that have so far not really been reflected in existing online motor retail solutions.
"Firstly, the majority of deals really consist of numerous micro-transactions. There are various price negotiation points both upwardly and downwardly within the journey, such as the sale of value-added products, trade-in value and any consequential negative equity.
"Secondly, until the current crisis, consumer interactions have tended to be complex because the majority occur using a mix of online and showroom processes. TRANSACT allows entirely digital or analogue paths, or any mix of the two. How consumer preferences will develop in the future is difficult to say but a key advantage of the product today is that it can provide a highly sophisticated and effective means of building a deal entirely online.
"Essentially, TRANSACT delivers an infrastructure that enables dealer and consumer to enjoy all of the advantages of both face-to-face and digital negotiations and communications in a secure, online format - something that is obviously very important right now."
Key features in TRANSACT include the ability to build and send a digital deal to customers remotely with multiple finance products; to enable the consumer to self-serve important elements of the transaction; to include value added products; to manage finance application submissions as well as updates and decisions from your panel of lenders; and to offer easy-to-understand consumer motor finance product information videos.
James said: "TRANSACT is, we believe, a genuine step forward in online motor retail that will have a very positive impact for dealers, especially bearing in mind the way in which deals are likely to be made during the coronavirus crisis."
iVendi is launching three products this year – ENGAGE, CONVERT and TRANSACT - that together are designed to form a comprehensive online motor retail journey for all vehicle retailers from small dealers to multi-national businesses. CONVERT was introduced in January and ENGAGE will be brought to market very shortly.