Louise Bullock
Build better buying journeys with these tips and examples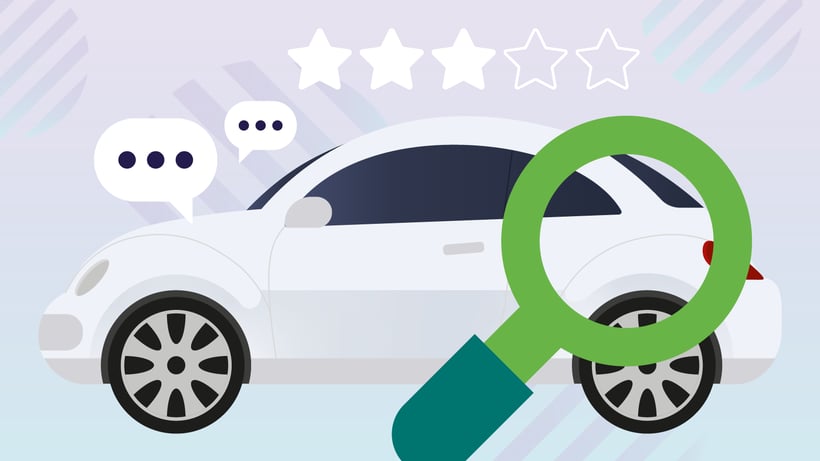 There are no longer any questions about how customer expectations have changed the way people buy, and in turn, the way businesses sell has changed.
In times past, consumers had very few options available to them when researching products, relying on visits to stores, or through catalogues, telephone enquiries, and even satellite TV shopping channels - remember those?
Things slowly changed throughout the 20th century, but it was the widespread adoption of the internet that brought considerable change.
Consumers now have a wealth of information available to them at a moment's notice. Some eager consumers may do enough thorough research to, at times, become more qualified than a salesperson.
In this post, we'll look at the modern consumer buying journey, and how retailers can take an active role in the way customers buy vehicles.
What is a buying journey, and why does it matter?
A buyer's journey, is a person's path to purchase, and contains every step, big or small, that a potential customer takes on their way to a product or service.
The buying journey is made up of three phases, AWARENESS, CONSIDERATION, and DECISION.
Each step can be defined as follows:
AWARENESS: The first step on the buying journey, where the buyer recognises there is a problem or need, and they begin to discover your products as a potential solution.
During this stage, buyers may not know what the root concern or need is and begin researching the 'symptoms' in search of an answer.
CONSIDERATION: At the consideration stage, buyers are aware of what their problem or need is. They've researched enough to know what options are out there, and are considering which paths to follow to reach a solution.
The consideration stage is critical, the buyer is now weighing up their options. This is where they find additional information and demonstrations of value that inform their ultimate decision.
DECISION: At the decision stage, the buyer is ready to buy. They're aware of your solution, and probably of your competitors, and are making the decision on the right provider to choose.
At this stage, the main goal should be to minimise the hesitations felt by the buyer. This could come in many forms. For example, how clear is their next step, how easy is it to progress the journey with you over your competitors, and what additional value have you demonstrated?
Why does the buying journey matter in automotive retailing?
Our CCO, Darren Sinclair, says: "When it comes to the buying journeys offered by motor retailers, two key trends have emerged following the pandemic that have helped to transform customer expectations.
"Firstly, buyers are realising that the way they've been transacting digitally in other retail sectors is now possible when buying a car.
"Secondly, extremely high-profile and well-funded digital disruptors have arrived in the market and, while their difficulties have been widely reported in recent times, they are still investing heavily in transforming customer expectations as a way of gaining a competitive advantage."
Being able to clearly identify the buying journey your business provides gives an opportunity to take an active role in a business process, which until now, has been largely passive for the majority of motor retailers.
Our latest white paper, Better Buying Journeys, provides an in-depth look at how retailers can take control of their buying journeys.
How to create a better buying journey
So, how should established dealers react?
Darren continued: "In our view, by accepting that how car buyers behave is evolving and adopting the best technology available alongside the creation of a genuine change in culture.
"By doing this, they can compete against any other motor retailer – and emulate the best digital customer experiences available anywhere. With the right technology and the right attitude, traditional dealers can thrive and do so using products that are easily available at a competitive cost and strategies that are well-proven in the real world."
Our latest white paper breaks buying journeys down into five key points to help retailers begin building better buying journeys that start on their website and compliment their established processes in the showroom.
The key points are as follows:
Start with search - Buying a vehicle starts well before a customer visits your website. Is your business geared up to take advantage of what buyers are looking for?
Build engagement - Are buyers engaged the moment they land on your website? Does your site reinforce what they've seen in their search results, are you building trust?
Progressing the sale - What happens when buyers find the products they want? Is the path to purchase clear?
Creating the right digital culture - Are you matching the online buying experiences offered by your competitors, or by those looking to steal market share?
The real-world advantage of a physical showroom - While the market for online vehicle purchasing exists, traditional motor retailers have a key advantage in the showroom. Is your online journey helping to bring people into your most valuable asset?
Darren continued: "The white paper details how the right technology can help you generate the data required to accurately measure and analyse consumer behaviour, dynamically provide the search results for which online buyers are looking, reassure them they're dealing with a reputable and helpful business, and simplify the online journey to make buying easier.
"Then, it shows how recognising why and in what ways consumer habits have changed can help bring about a crucial shift in culture that genuinely recognises the needs of modern vehicle buyers, ultimately delivering the buying experience they expect."
Example of a good buying journey
In a previous white paper, we showed a real-world example of a typical buyer journey.
The graphic demonstrated the journey of a real customer, from their first vehicle search through to their application for finance, and final purchase.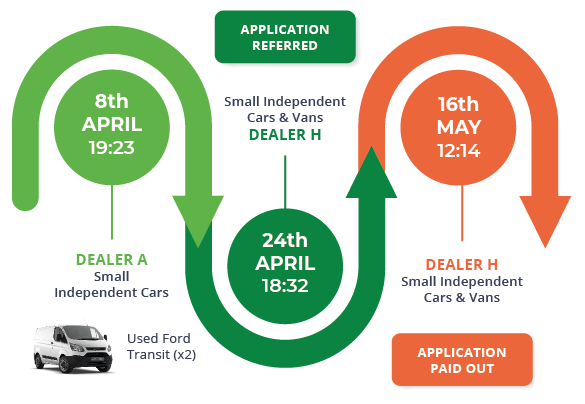 The full journey outlined above was made up of over 21 unique customer touchpoints, was shared between 7 retailers and one manufacturer websites, and took over 39 days to complete from start to finish.
What's important to note is the length and the number of steps in the journey.
The overall journey took 39 days to complete, and 7 different retailers and one manufacturer were considered by the user.
The user also only chose to progress the buying journey with one of the retailers, which may be an indicator of that retailer having a clearer path to purchase.
Where does iVendi fit in?
We specialise in making the buying journey an active business process, one that you can build into your strategies and enhance the customer experience you have to offer.
Our tech is designed to interact with consumers at every stage of the buyer's journey.
Engage - Our smart search solution works during the awareness stage. It's the first point of interaction for customers when they land on your website and start looking for a vehicle. Engage helps users on your website find the vehicles they really want, and helps move them to the consideration stage of the buying journey.
Convert - Our complete lead generation toolkit helps capture consumers during the consideration phase when they've found the vehicle they're interested in, and want to consider the options available to them, such as affordability, and finance eligibility. Convert progresses the buying journey even further, giving you pre-qualified leads that have a higher chance of converting into a sale.
Transact - Transact is our integrated vehicle sales platform that helps bridge the gap between your online and physical buying journey. While Transact gives you everything you need to sell vehicles online, it really shines as a tool to help encourage customers to visit your showroom where sales can be completed. Transact lets you build personalised digital deals, and interact with your customers wherever they are, building-in aftersales products, and building the trust you need to help consumers through the decision stage.
So, where should you start?
Our latest white paper, Better Buying Journeys, looks at how new thinking can help motor retailers create the best customer experience online and in the showroom.
Packed with insight, it's the perfect place to start when planning your future buying journeys.
We provide half a dozen ideas about how to adapt and improve your customer journey, with solid places to start building your digital strategies.