Optimise your digital strategies online and in-store to maximise financing opportunities

.

Finance solutions are at the heart of nearly every vehicle sale.

As consumers increasingly search for vehicles and transact online, it is crucial that finance solutions are readily accessible to help them with their purchasing decisions.

Our solutions seamlessly connect consumers with lenders, integrating finance into the transaction process at an earlier stage and facilitating the sale of finance products.

With over 8,000 retail users and more than 5 million consumers accessing our platforms every year, our finance solutions have earned the trust of banking organisations throughout the UK and Europe.
Online Solutions
Online Finance Solutions
Introduce finance earlier in the buying journey
Finance lenders can make the buying process easier by ensuring that their finance products are available at the beginning of the online buying journey, and giving the customer more control over their applications.
By offering suitable financing options from the start that don't impact consumer credit scores, customers can identify the best funding for their purchase before stepping foot in the showroom.
Showroom Solutions
Showroom Finance Solutions
Finance that supports the consumer
Our showroom solutions function as an integrated finance point-of-sale and innovative deal management system, enabling dealers to send finance requests directly to the lender and manage the application from start to finish from one system.
Quickly turn finance leads into successful sales, with a range of features designed to connect online and showroom sales processes into one seamless journey. Consumers can start the vehicle buying journey online and retailers can structure the deal remotely, ultimately completing the transaction remotely or in the showroom.
Integrate your finance quotes
Ease the finance journey and deliver quotations that match consumer eligibility in as little as three steps. Set default APRs and commissions and make every sale consistent.
Consumer self-service
Let consumers check their eligibility from the comfort of home. Leads delivered to your retailers are pre-qualified for finance and arrive ready to buy.
Made to measure technology
Flexible, fast and adaptable technology that's built for you. Everything about your platform can be bespoke, from specific application fields to automated rate changes. Almost everything can be incorporated quickly and easily.
Our platform at a glance…
We keep on delivering
Platform figures for Jan - Dec 2022
£2.1 Billion Vehicle Sales
The iVendi platform helped our retail partners make over £2.1 billion in vehicle sales.
£34 Million VAPs Sold
We've helped retailers sell over £34 million of value-added products including dealer guarantees, warranties, paint protection and much more.
18 Billion Online Finance Quotes
Over 18 billion online finance quotes were generated through the iVendi platform for more than 24 financial lenders.
Delivering your digital strategies
Some consumers want an online experience, and some want an in-person experience. Cater to the needs of both with a platform that can move between both worlds.
Our platforms let consumers start the finance journey online, or in person,
with lender decisions communicated in real-time to ensure the deal doesn't lose pace at the financing stage
.
Built to provide complete flexibility along the path to purchase, our platforms let consumers transact the way they want.
A Strategic Approach
Choosing the right strategic partner is vital to achieve your business goals.

iVendi's market expertise and ability to rapidly deploy our technology makes us a logical choice. We will work with you in a way that suits you whether you are looking for end-to-end bespoke solutions or plug-ins that work with your existing infrastructure, we have solutions ready to deploy.

Our portfolio of products make buying a vehicle easier, integrating finance at every step. Be it bespoke enterprise suites, or off-the-shelf digital retailing tools, we've got a solution that will fit your needs.
Robust & Secure
Cloud-hosted solutions give you the highest level of system availability. Auto-scaling, DNS load-balancing, and active clustering keep our platforms online, no matter the load.
Information security and data safety have always been one of iVendi's core priorities. Our products are built on a foundation of security and compliance providing peace of mind for customers, as well as protection from cyber threats.
Enterprise-level Support
24-hour support and synthetic tests ensure all systems stay working as they should. Our partner management framework provides full visibility of service including SLA reviews and retailer reports.
Our support team is always on hand to help you rapidly resolve any queries or issues and our automated detect-and-resolve offers a proactive support system that alerts users to errors in real time.
iVendi Guarantee
The iVendi Guarantee is built on seven foundational principles: Security, Support, Compliance, Insight, Service, Training and Testing.
No matter which product or service you buy with us, you will get the highest levels of customer service, service availability, security and compliance.
We offer complimentary training on all our products to make sure our partners get the best value. And our team is always on hand to share data and insights to improve performance.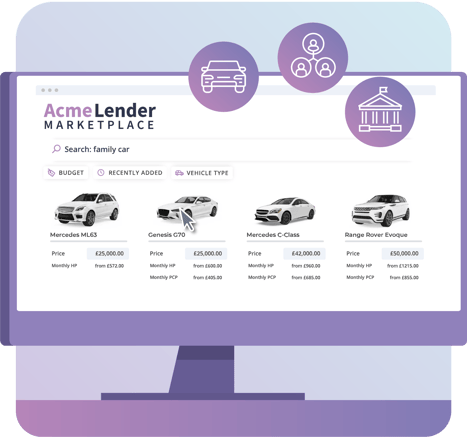 Delivering more for MotoNovo
MotoNovo is one of the UK's largest independent vehicle finance lenders and has been partnered with iVendi for a number of years.
Together, we built findandfundmycar.com, one of the UK's largest online used vehicle marketplaces.
Find and Fund My Car
Find and Fund integrates the whole vehicle buying journey into a single marketplace, with products uploaded by national dealerships, integrated directly into MotoNovo's finance environment.
Findandfundmycar.com lets consumers search for vehicles using various criteria, connecting them directly to retailers in their area, and managing the entire finance journey from start to finish.
See our technology in action
Book a demo today, and a member of our team will show you how our platform can help deliver your digital strategy.
More from iVendi
Get more from iVendi, read our resources or browse our knowledge hub.