Put finance at the forefront of every vehicle sale
Connect your finance products to buyers at every stage of the buying journey, from online browsing to showroom sales.

Expand the reach and visibility of your products with innovative solutions that support your retailer network.
Online Solutions
Online Solutions
Make finance the first and last step of vehicle sales.
Integrate finance earlier in the buying journey to help consumers find the right funding alongside their next vehicle.
Showroom Solutions
Showroom Solutions
Finance that doesn't get left behind.
Build buying experiences that move seamlessly between online and physical channels, keeping consumers engaged.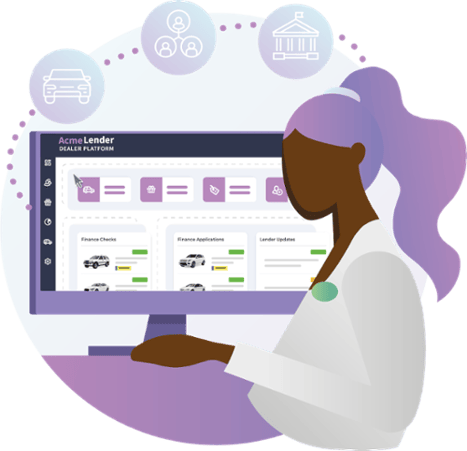 Unlock the power of automotive finance
Open the door to our cutting-edge automotive finance technology to provide real-time finance quotes, streamline the loan application process, deliver finance eligibility checks and more. iVendi Connect, our enterprise-level API solution, integrates our powerful functionality into your existing systems while allowing you to maintain complete control over your own user interface.



Build a connected marketplace that brings your retailers and consumers together
Create a home for your finance products and your retailers' stock.

iVendi Marketplaces ease the path to purchase by providing everything your customers need in one place.

From initial searches, through to finance eligibility checking and transaction, your finance products take centre stage.

Vehicle and finance smart search
Engage brings finance to the start of the buying journey, allowing customers to search for the vehicle they want, at the price they can afford.

Built with buyers in mind, Engage allows shoppers to search for vehicles by keyword and payment options, showing results tailored to their specific needs.

Generate qualified finance leads online
Capture valuable online traffic with a series of strategic calls to action designed to generate qualified finance leads.
iVendi Convert progresses potential buyers further down the sales funnel, turning casual browsers into qualified leads.
Let buyers check their finance eligibility, compare finance options, get personalised quotes, and apply for finance from the comfort of their own home.
Showroom Finance Solutions

Finance Point of Sale
Our award-winning finance point of sale system makes it easy for retailers to progress sales that started online or in the showroom.

With one system to house finance eligibility checks, vehicle reservations, online orders, finance applications and more, iVendi Transact increases efficiency and makes the sales process easier for all.
Find and Fund My Car
MotoNovo is one of the UK's largest independent vehicle finance lenders and has been partnered with iVendi for a number of years.
Together, we built findandfundmycar.com, one of the UK's largest online used vehicle marketplaces.
Find and Fund integrates the whole vehicle buying journey into a single marketplace, with products uploaded by national dealerships, integrated directly into MotoNovo's finance environment.
Findandfundmycar.com lets consumers search for vehicles using various criteria, connecting them directly to retailers in their area, and managing the entire finance journey from start to finish.
See what our products can do
Let a member of our team show you the capabilities of our products in a quick, 15-minute, online demonstration.
More from iVendi
Discover more about iVendi, read our resources and browse our knowledge base.