End-to-end vehicle retailing technology
We provide bespoke enterprise-level tools for vehicle and financial services retailing that enable seamless connections between your business and consumers.
These tools are designed to be flexible, so whether you need a custom-built solution, plug & play e-commerce tools, or open integrations that work with your existing systems, we can help you build your e-commerce platform and manage it from anywhere, allowing you to achieve your business goals.
With our extensive experience working with various national and international lenders, retailers and manufacturers, we are capable of delivering innovative digital strategies such as online marketplaces and new financial products. We have the knowledge and expertise to help you deliver your digital strategies and achieve measurable results.
Online Solutions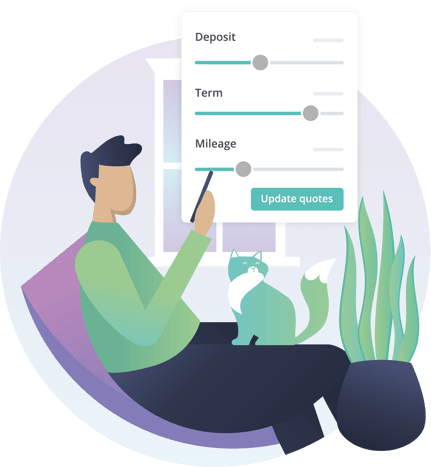 Showroom Solutions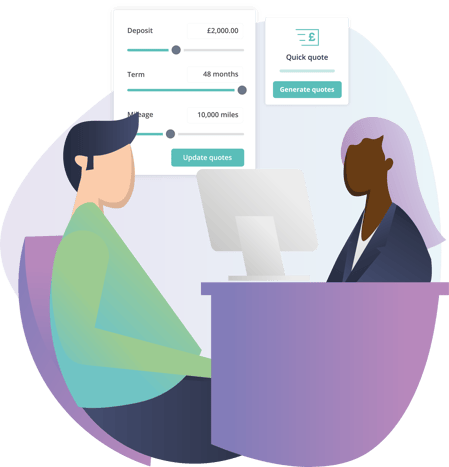 Stay on the cutting edge of automotive retail technology
Connect every part of your sales process, from manufacturer to consumer, and everyone in-between. iVendi's suite of cutting-edge solutions and digital technology sit at the heart of vehicle retail and vehicle financing.
A better buying journey
Build engaging buying journeys that help consumers find the perfect vehicles and funding options tailored to their specific needs, and empower your retailers with end-to-end sales technology.
Connect with the consumer
Personalise the customer experience and provide quotations with built-in value-add and aftersales products. Our innovative Digital Deal feature enables retailers to send personalised quotes to all customers, giving them the chance to consider and even complete the transaction at a time and place that suits them.
Our platform at a glance…
We keep on delivering
Platform figures for Jan - Dec 2022
£2.1 Billion Vehicle Sales
The iVendi platform helped our retail partners make over £2.1 billion in vehicle sales.
£34 Million VAPs Sold
We've helped retailers sell over £34 million of value-added products including dealer guarantees, warranties, paint protection and much more.
18 Billion Online Finance Quotes
Over 18 billion online finance quotes were generated through the iVendi platform for more than 24 financial lenders.
Make buying easier
Our solutions are transforming the way vehicles are bought and sold by empowering consumers to tailor their buying journey to their needs.
Our omni-channel retailing solution for vehicles and financial services has been built to guide consumers seamlessly and transparently through all stages of the vehicle buying journey, connecting online and showroom sales in one easy-to-use platform.
An integrated ecosystem
Automotive retail is already complex. Ease the path to purchase by providing everything your customers need in one place.
iVendi's connected solutions pull together the best online lead generation tools with sophisticated stock management, intuitive vehicle and finance search, and an innovative finance point of sale system to keep consumers engaged and make buying easier.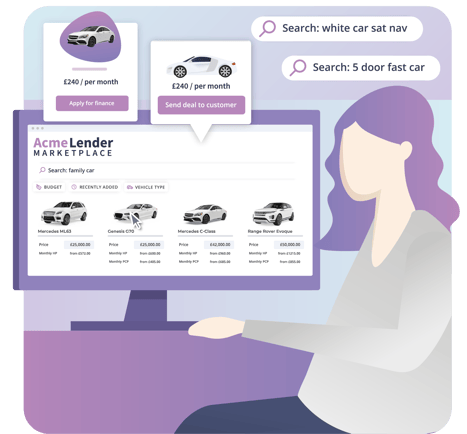 Security, guaranteed
Security is at the heart of all iVendi products. We are authorised and regulated by the UK's Financial Conduct Authority, certified on the Financial Services Qualification System and have achieved ISO 27001 accreditation.
Privacy and security are top priorities, and are a core part of ensuring the right finance products are presented to the digital consumer throughout the vehicle buying journey.
Robust & Secure
Cyber threats are a genuine business concern, which is why we conduct annual penetration tests with independent third parties to ensure data and systems are safe from attack.
Constant monitoring means threats are detected and quickly neutralised before they become an issue. Our partners can have confidence that we keep our own, and our clients, security at the heart of our operation.
Building big things for BDK
BDK is a German subsidiary of Societe Generale, who commissioned the development of Juhu.auto, a vehicle marketplace that promotes the vehicles available through their retailer network, with interactive finance offers built-in to each vehicle proposition.
Juhu.Auto
Juhu.auto lets users search for lifestyle requirements, such as large boot space, economical, long-range EV, or simply by searching for the type of vehicle, be it make or model.
Users don't need to be experts or remember various makes and models, which is a requirement in Germany's existing marketplaces.
The marketplace also works for retailers, letting them set individual customer finance rates based on the age of the vehicle and the finance product.
See our technology in action
Book a demo today, and a member of our team will show you how our platform can help deliver your digital strategy.
More from iVendi
Get more from iVendi, read our resources or browse our knowledge hub.