The Financial Conduct Authority (FCA) has introduced new rules for dealers and lenders to follow aimed at delivering good outcomes for retail customers. These rules, called Consumer Duty, come into force in July 2023.
To help our customers deliver good outcomes for consumers, we have changed the application process for our online and showroom tools to introduce a designated Consumer Duty step within our finance journey. These changes bring significant improvements to the journey, starting from the Quote Results pages all the way through to Application Submission.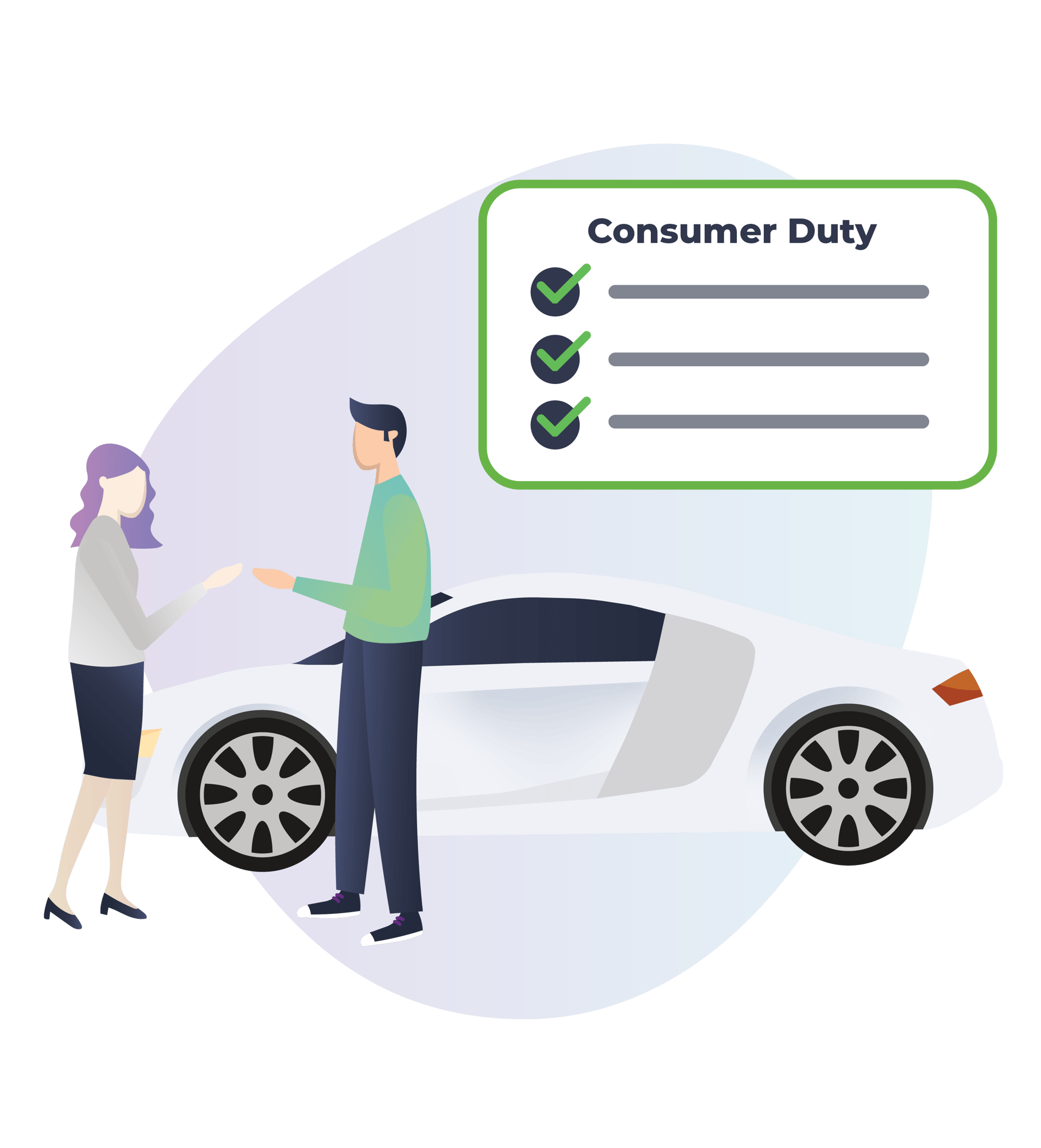 Consumer Duty has brought about a new era of responsibility for dealers and lenders when it comes to presenting products to customers. It's no longer enough for lenders to take a hands-off approach and leave everything to the retailer. Instead, both lenders and dealers now share a joint responsibility towards the consumer.
To comply with the new regulations, lenders must demonstrate that they have full oversight of the entire customer journey, from the sale of finance and beyond. This requirement applies whether the product was sold directly by the lender or through an introducer like a dealer.
Lenders often face a challenge when it comes to controlling how dealers introduce their finance products. They rely on dealers to execute the necessary actions consistently, which requires operational oversight. Ensuring that the distributors of their products are doing their job properly is crucial.
Explore our Consumer Duty product enhancements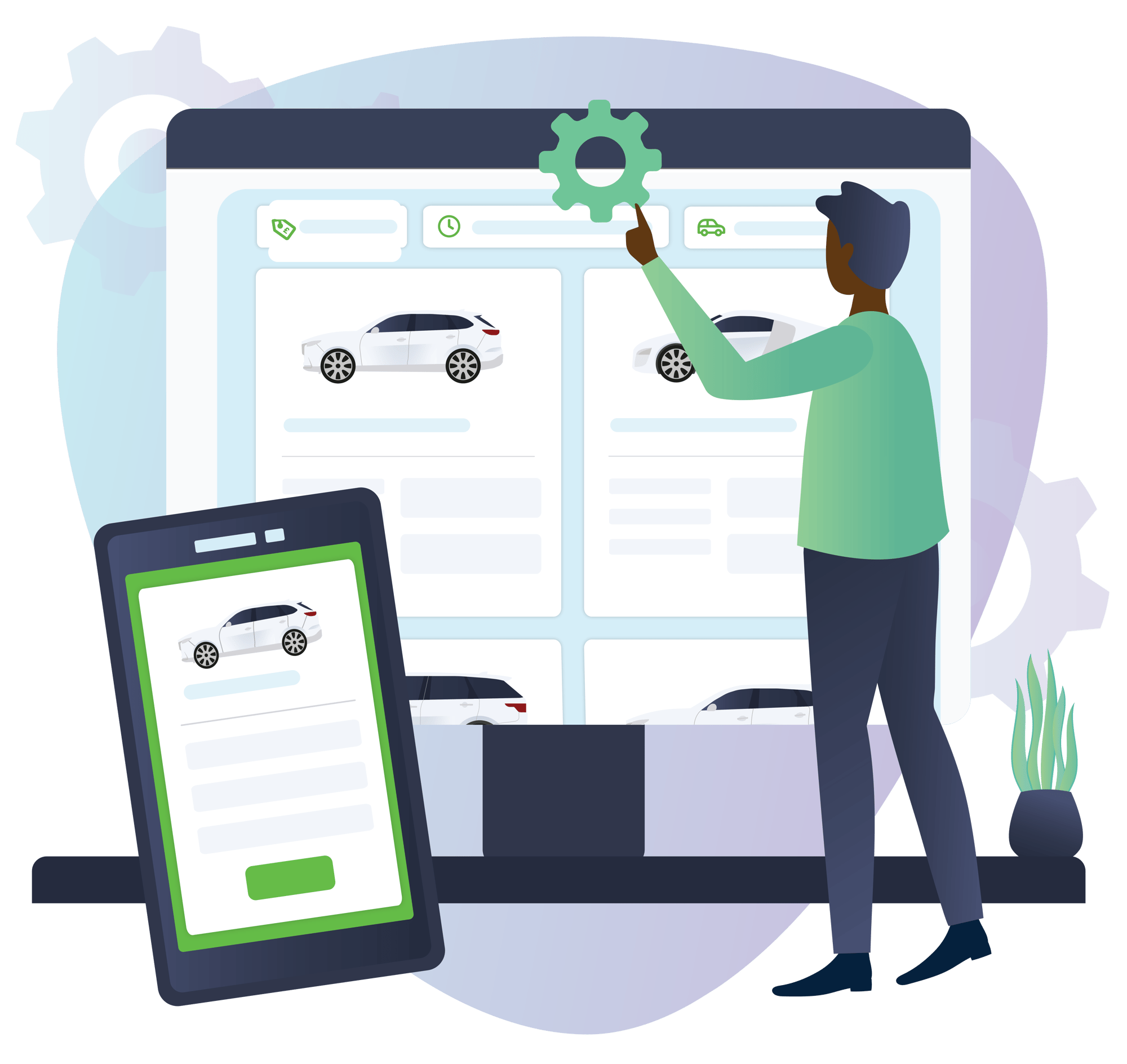 We have upgraded our customer journey with a series of enhancements designed specifically to assist lenders and dealers in meeting Consumer Duty requirements and fulfilling the four outcome areas.
We have introduced four new pages that ensure compliance with Consumer Duty by making lender information easily accessible to Dealership Users and their Customers. These pages provide the best opportunity for understanding Products and Services, their Price and Value. Additionally, they help establish a strong understanding of the support provided by the Lender, ensuring consistent compliance both online and in the showroom. Our new features are tailored to meet the requirements of Consumer Duty.
Explore our Consumer Duty product enhancements
Lender data
When customers embark on their application journey, whether they are self-serving from home or working with a dealer in the showroom, they will have access to all the relevant information about the finance product they have chosen. This information is provided directly by the lenders themselves, ensuring that the product is introduced correctly and in line with the lenders' guidelines.
By including lender-specific data, we enable dealers and lenders to present the finance products in the most effective and transparent manner. Customers can make informed decisions based on comprehensive information, understanding the unique features, benefits, and terms of the chosen finance product.
We recognise that each lender may have their own distinct requirements and nuances. By incorporating lender-specific data into our customer journey, we ensure that the information provided aligns perfectly with the specific finance products offered by each lender. This enhances the accuracy and relevance of the information, leading to a smoother and more seamless customer experience.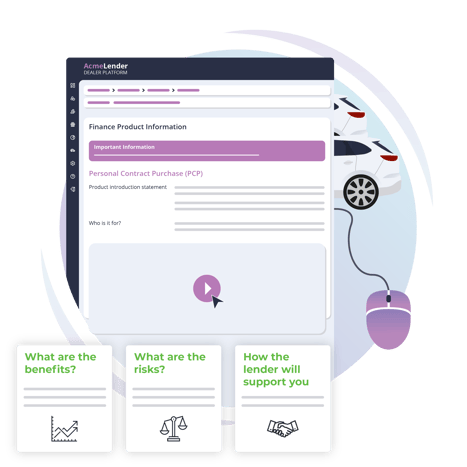 Product videos
When customers explore finance products through our platform, they will have access to a collection of product information videos supplied by each lender. These videos serve as invaluable tools to explain the differences and highlight the unique benefits of each finance product.
By incorporating lender product videos into the customer journey, we ensure that the introduction of finance products is not only accurate but also engaging. Instead of relying solely on text-based descriptions, customers can now watch informative videos that showcase the features, advantages, and potential uses of each product.
These videos serve multiple purposes. Firstly, they provide a clear and concise overview of the finance product, ensuring that customers have a solid understanding of its key attributes. Secondly, the videos effectively convey the value proposition of each product, helping customers make informed decisions based on a comprehensive understanding of the benefits they can expect.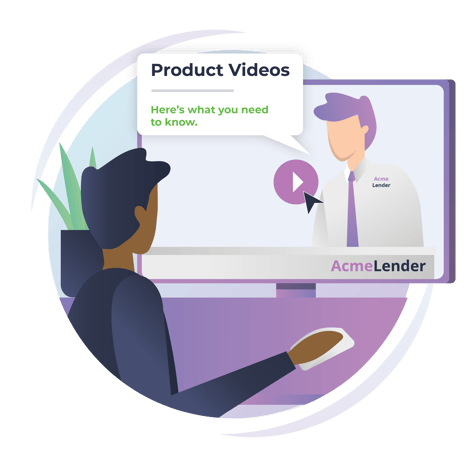 Suitability assessments
We have integrated a series of carefully crafted questions into our platform, specific to each finance product. These questions are provided by the lender and are designed to gauge the customer's comprehension and suitability for the product they are considering. Before proceeding with the application, customers are required to answer these questions accurately and honestly.
The suitability assessments serve as a critical checkpoint in the customer journey. By evaluating the customer's understanding of the finance product, we ensure that they have a clear grasp of its key elements, including pricing, value, and terms. This assessment process empowers customers to make informed decisions based on their level of understanding, increasing their confidence in choosing the right product.
If a customer does not demonstrate full understanding of the product through the suitability assessment, we take proactive measures. Rather than allowing customers to proceed with an unsuitable product, we refer them to the retailer for additional support.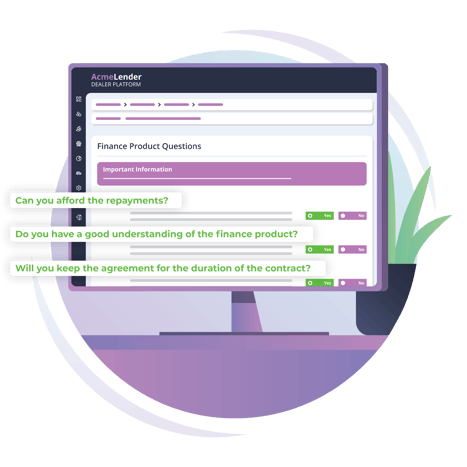 Signposting
To ensure that all customers, particularly vulnerable customers, have the necessary resources and guidance throughout their journey, we have implemented a signposting feature in our finance journey.
This feature directs customers to valuable resources such as government financial advice and the lender's own support materials. By offering these external sources of information, we empower customers to make informed decisions and navigate the finance process confidently.
Signposting ensures that customers have access to relevant resources that can help them better understand the information and terms associated with finance products. By providing this additional support, we foster a customer-centric approach that promotes inclusivity and fairness.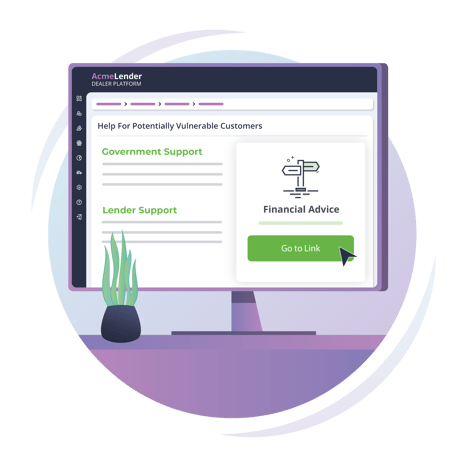 Privacy policy
Customers have the right to know how their data will be utilised and shared, enabling them to make informed choices about their privacy. That's why we have implemented a comprehensive Lender Privacy Policy as part of our commitment to transparency and customer-centric practices.
This serves as a crucial component of our upgraded customer journey,
By providing a detailed and easily accessible Privacy Policy, we empower customers to make informed decisions regarding their data. They can trust that their personal information is handled with the utmost care and in accordance with applicable data protection laws and regulations.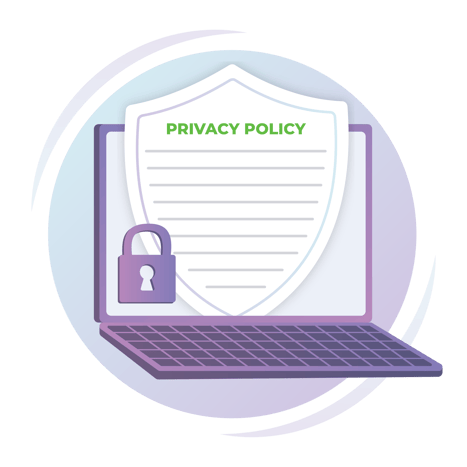 In addition to these features, we aim to reduce rejections for customers. We understand that lenders have specific rules regarding when, how, and to whom they can offer finance. When we are aware of these rules, we intercept applications on the dealer platform before they are sent to the lender. This allows the retailer to support the consumer in finding a lender that better suits their needs, avoiding rejections that could be detrimental to all parties involved.
We are committed to helping lenders and dealers navigate the challenges posed by Consumer Duty. With our upgraded customer journey and tailored features, we provide the necessary tools to ensure compliance and deliver a positive experience for both lenders and customers.
Learn more about how iVendi's Connected Retailing Platform can help strengthen your compliance strategy.