Join the iVendi Team
We're a friendly team of marketers, designers, and engineers who are on a mission to reshape the way people purchase vehicles online. We specialise in developing digital motor retailing and finance solutions, with an aim of eliminating the misconceptions surrounding retailers, this begins with our talented team. Every team member has a direct and visible impact on the business, where everyone's ideas are listened to. We know that our products are only as good as the people who build them, so we believe in hiring talented, creative problem-solvers who can make a difference. We want to hear from you!
Scroll to view our benefits
Annual leave
25 days + 8 days public holiday
Birthday day off
Have your birthday day off paid for by us!
2 annual company conferences
We celebrate our achievements as a team. Plus one conference is abroad!
Health insurance
Vitality healthcare offers a subsidised apple watch, free cinema tickets and more
Private pension
Up to 5% employer matched contribution
Flexible working
Flexible and remote working options for our development and engineering teams with occasional travel when required
Training
We support and encourage our team to continue their ongoing professional development with external training where appropriate
Free fruit and refreshments
Fresh fruit and quality coffee/tea in our offices to keep you fuelled up throughout the day
Annual leave trading
25 days not enough? Trade annual leave up to 5 days to give more flexibility
Volunteering leave
Why not have 2 days paid to give back to the local community
Remote working allowance
We provide a monthly remote working allowance to contribute towards utilities and broadband costs
Our values
Resourceful
Focus on what's most important, challenge convention and through innovation and creativity deliver world class solutions and achieve world class results.
Resilient
Quickly adapt to new challenges and situations and take ownership of problems and continuously learn.
Reliable
Honour commitments through dedication, hard work, careful planning and effective communications.
Respectful
Recognise the value of different perspectives and work collaboratively.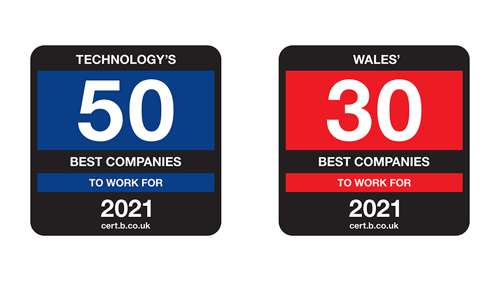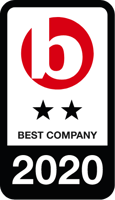 We're pleased to have achieved multiple awards and accreditations as a workplace.
In 2021 we were recognised by Best Companies in their list of the Top 50 Best Technology Companies to Work for in the UK and the Top 30 Best Companies to Work for in Wales.
We have also received a Best Companies accreditation for Outstanding Workplace Participation.
Accelerated Development Programme
We've recently launched our Accelerated Development Programme, an initiative that aims to help people begin their careers in tech.
The Accelerated Development Programme provides the opportunity to join our multi-award-winning team, where you can develop your foundational skills and transition easily into one of our dedicated tech disciplines.
The opportunities include joining teams in software engineering, data engineering and analytics, product design, quality assurance, and more.
Work with us!
Our head office is located in Colwyn Bay, North Wales with a remote development and engineering team based around the North West of England.