The right technology to help you compete
Used vehicle retailing is becoming ever more competitive. Buyer expectations have leapt forward and online retailing is increasingly a crucial commercial component to the success of franchised and independent dealers.
The right technology can help retailers and their lender partners compete, by providing all the tools needed to offer a comprehensive online buying experience, fully connected to the showroom.
Connecting online and showroom sales
Connected Retailing is our vision for the future of vehicle retailing. A future where retail technology works equally well online and, in the showroom, connecting the two sales channels and providing a single, seamless journey for the consumer.

Our connected retailing platform for vehicles and financial services enables consumers to advance further through the vehicle research-to-purchase journey online and allows dealers to adapt and thrive in a transforming vehicle retailing industry.
Schedule a demo
If you'd like to see how our platform can help deliver your digital strategy, contact us today.
THE CHANGING RETAIL ENVIRONMENT
Who's buying?
The acceleration towards digital transactions in many areas of life has created a more diverse customer base for retailers.

Connected Retailing helps cater to the needs of all buyers, whether they shop completely online, move between online and physical channels, or want to conduct the entire sale in person.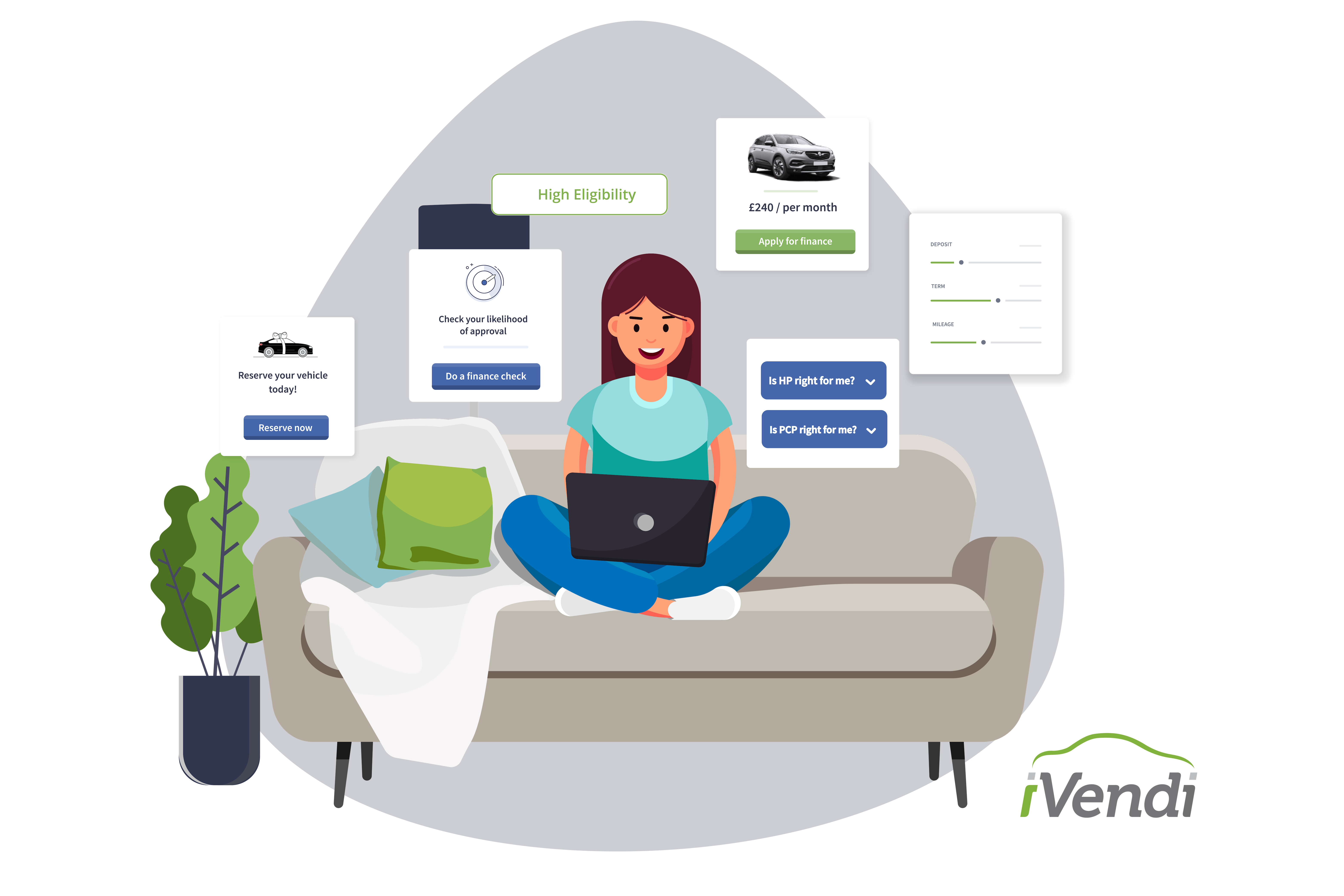 MAINTAINING PROFITABILITY
The digital showroom never closes
A Connected Retailing approach lets you maintain profitability and keep your sales channels open, even when the business is closed.
Retailer websites and marketplaces remain a critical part of the vehicle buying journey. This is the digital forecourt, and it is crucial to have the right technology online to cater to all types of buyers.
iVendi's integrated vehicle and financial services retailing platform connects the digital and showroom sales experience, providing a complete retail experience that buyers can engage with at any time.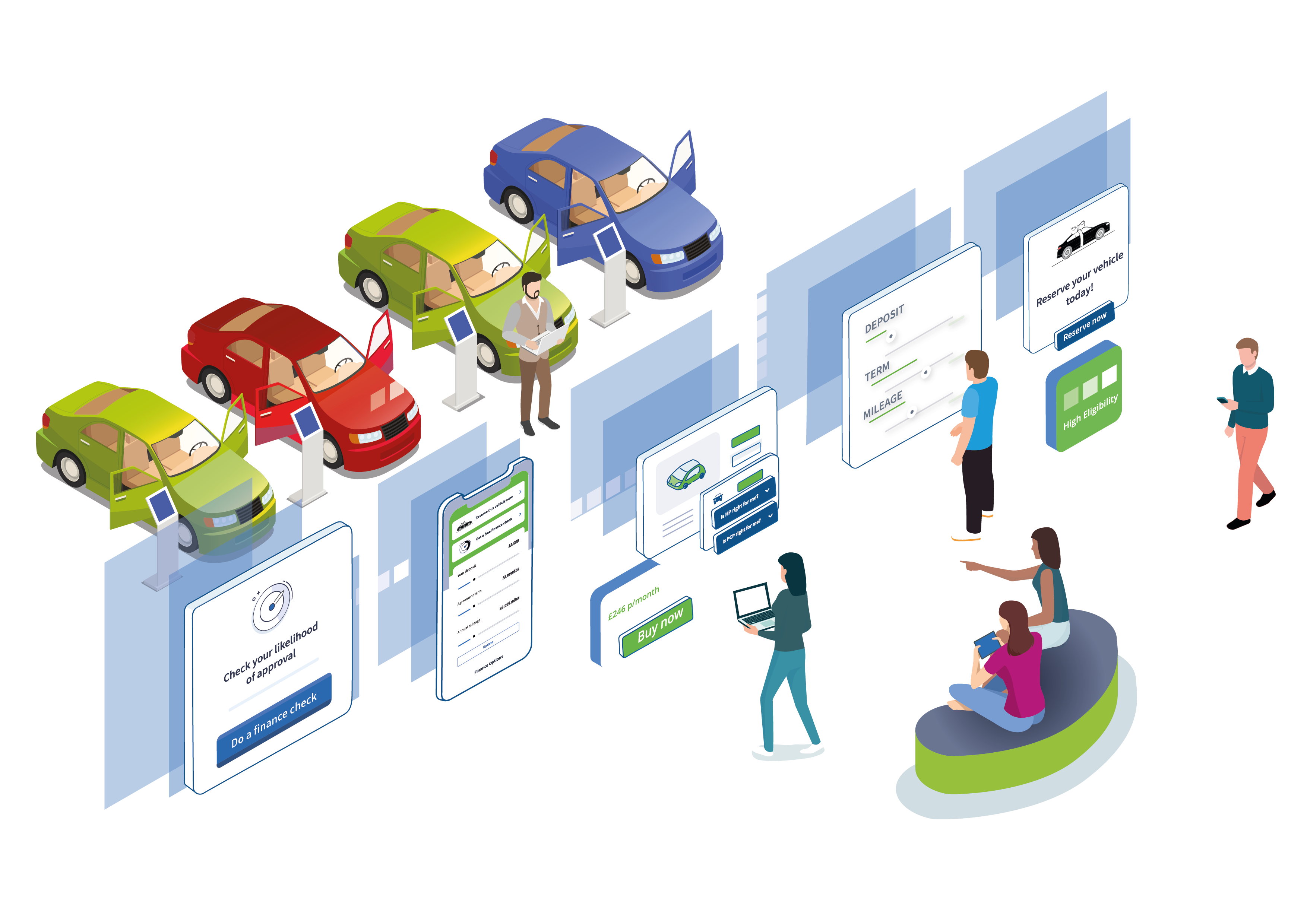 FLUID FINANCE
Digital transformation isn't only necessary, but profitable
Customers now have more options than ever before when it comes to financing large purchases.
iVendi's powerful lead generation tools can help lenders put their brand and exclusive products in front of consumers earlier in the buying journey with finance calls to action optimised to encourage consumers to take the steps to purchase the vehicle and apply for finance.
SAFE & SECURE
Built on a foundation of security
Built on a foundation of security, and fully compliant with the strictest international banking standards, the iVendi platform keeps consumer and financial information secure.
The iVendi platform has multiple security accreditations, including ISO certifications and CyberEssentials+.
Vehicle retailing is complex, but consumers want simplicity. Our Connected Retailing solutions connect the retailer, lender and consumer throughout the research, decision and purchase stages of the vehicle buying journey and connect the digital and showroom sales processes, providing a seamless experience for consumers, no matter how they choose to buy.

Digitisation has provoked more change in motor retail and vehicle finance in the past five years than in the decades before combined. Moving forward it is important to learn from the experiences of trying to conduct business differently. Creating a more agile business that's ready to deliver under any circumstances will stand well for the future.

Discover more about what the future of vehicle retailing holds by downloading our full white paper Connected Retailing: Addressing the Challenges of Digital Transformation today.